Hamas' military wing has released footage claiming to be its militants entering Israel, via an underground tunnel from the Gaza Strip, and storming an IDF guard post, in an attack which killed five Israeli soldiers.
The unverified video censors the faces and conversations of the militants as they emerge from a tunnel believed to originate in Shejaiya, Gaza and run towards a guard post south of Kibbutz Nahal Oz near Karmi Crossing.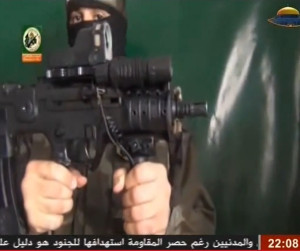 An anti-tank missile and shots are fired. At least one dead IDF soldier is shown. An Israeli rifle captured by the militants is displayed at the end of the video. According to the Times of Israel one Hamas militant also died. The tunnel has reportedly been demolished and the IDF are searching for the gunmen.
Before the release of the footage, Qassam Brigades commander Mohammed Deif issued an audio statement on Al Aqsa TV declaring "there will be no ceasefire without [Israel's] lifting of the siege."
Deif condemned Israel for targeting Palestinian civilians, saying his group were targeting only soldiers despite their capabilities to hit civilians.
Elsewhere, five Palestinian militants were killed by Israeli forces after attempting to infiltrate Israel via another tunnel. A Givati infantry battalion opened fire on the militants when they were spotted emerging from a tunnel.
The tunnel network, which runs from deep inside Gaza into both Israel and Egypt, has been used by Hamas militants to circumvent the Israeli blockade, smuggle goods into Gaza and attack IDF soldiers.
Israeli Prime Minister Benjamin Netanyahu says the Gaza ground and air offensive will continue until the threat from the tunnel network is stopped.
According to Gaza's health ministry, 100 Palestinians were killed on Tuesday, bringing the Palestinian death toll to more than 1,229 since Operation Protective Edge began on 8 July. The IDF also shelled the only power facility to supply electricity to Gaza, which has a population of approximately 1.8 million.
The Israeli military has confirmed that 53 IDF soldiers have been killed in the conflict alongside three civilians - one a foreign national.