As the Gaza conflict rages on, without any signs of long-term resolutions between Israel and Hamas, Russell Brand has added his name to the long list of celebrities calling for action against Israel.
While celebrities such as Rihanna and the Hollywood couple Penelope Cruz and Javier Bardem, have retracted their statements in support of Gaza, and called for peace for all instead, Brand, in his chracteristically brazen style, has attacked Israel head-on.
In the new episode of The Trews, as seen above, Brand urges the viewers to support the Avaaz campaign by signing a petition that is aimed at convincing companies, like Barclays, HP, security giants G4S, pension fund ABP and Caterpillar to withdraw their financial involvement with companies that support and facilitate the oppression of people in Gaza.
Calling on Barclays, Brand said the bank manages, "the portfolios of an Israeli defence company called Elbit, which makes the drones that bomb Gaza."
He goes on to show several of Barclay's marketing campaigns before adding: "The message they give us is the exact opposite of the reality. They're acting like they're part of our community. But if we're aware of the reality of what they do, then we have the power to influence them."
The Avaaz campaign has so far received 1.7 million signatures of support.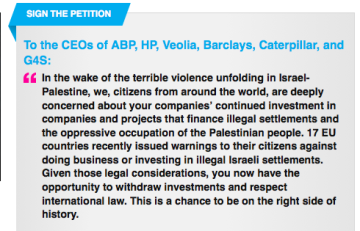 A mission statement on the petition reads: "In the wake of the terrible violence unfolding in Israel-Palestine, we, citizens from around the world, are deeply concerned about your companies' continued investment in companies and projects that finance illegal settlements and the oppressive occupation of the Palestinian people."
"17 EU countries recently issued warnings to their citizens against doing business or investing in illegal Israeli settlements.
Given those legal considerations, you now have the opportunity to withdraw investments and respect international law. This is a chance to be on the right side of history."
Several companies have continued financial ties with Israel, including Hewlett-Packard that claims that "respecting human rights is a core value" of their business, and they only use the Israeli checkpoints to allow people to "get to their place of work or to carry out their business in a faster and safer way."