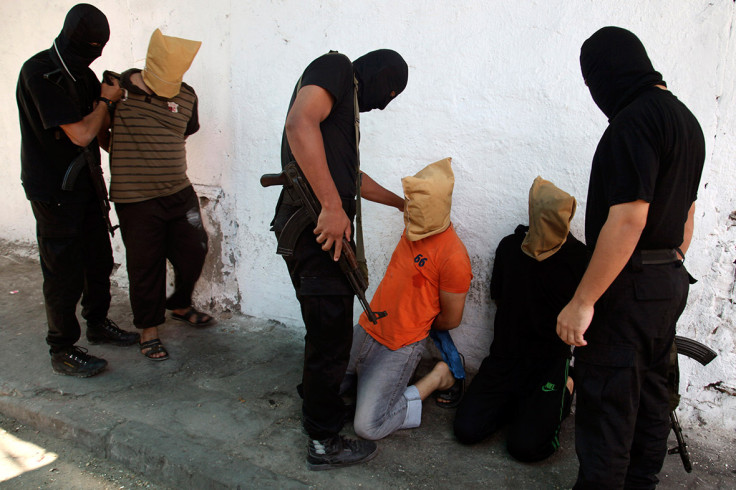 Hamas security forces in the Gaza Strip have executed three Palestinian men convicted of murder, despite local and international human rights groups denouncing such activity in the country. The move is likely to end up in further divisions among Palestinian groups.
According to Reuters, the three men were put to death after a trial and all appeals were exhausted, Hamas said. Two of them were executed by firing squad and the third, a policeman, was hanged.
The UN, the European Union and humanitarian groups had been pressing for calls to not carry out any executions.
"To achieve public deterrence and block crime, the relevant authorities implemented at dawn on Tuesday (31 May) execution rulings against three convicted of horrifying murder," the Gaza-based general prosecutor's office said in a statement.
It was the first time the Islamist group carried out a death penalty for murder since a united government was established in the Palestinian autonomous regions of West Bank and Gaza Strip, as part of the 2014 peace agreement between Fatah party and Hamas. However, in practice, Hamas remained the de facto authority, preventing the Palestinian Authority or its President Mahmoud Abbas from extending control over Gaza.
The unified government - called the Palestinian National Authority – was later dissolved in 2015, and because of the split between Fatah and Hamas, any execution order needs to be approved by the president under Palestinian law. However, the Islamist group did not seek Abbas's endorsement for the death penalty, claiming that it carried out the executions to preserve "security and stability" in Gaza.
The policeman who was executed was employed in the Fatah-led administration based in the West Bank, which has been losing its powers in Gaza.
The government has called the executions illegal. Ahmed Brak, attorney general based in Ramallah told Reuters that those responsible for the execution were involved in murder activity breaking local and international law.
"Carrying out the executions represents a flagrant violation of the Palestinian basic law," he added.
Condemning the decision, Sari Bashi, director for Israeal and Palestine at Human Rights Watch, said: "The death penalty is an inherently cruel and irreversible punishment in all circumstances. It's particularly egregious to execute defendants sentenced in Gaza, whose court system is rife with coercion, torture and compromised procedures."
Hamas has been imposing the death penalty ever since it took control over Gaza in 2007. Since then a human rights group has documented 67 executions, although this figure does not include the killings of people accused of being spies during wartime.