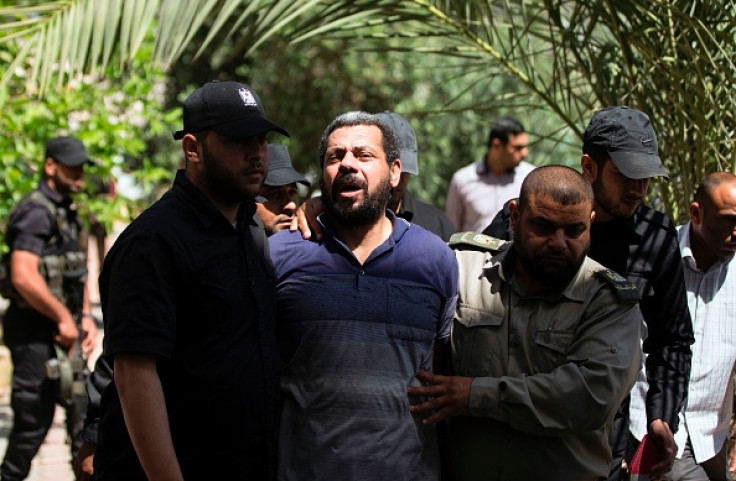 A Palestinian reporter who recorded the execution of three men by the Hamas militant organisation is now hiding as he fears reprisal, a source has confirmed to IBTimes UK.
On Thursday 25 May, Hamas killed three men accused of murdering one of its commanders, in an execution that was reportedly partially streamed on Facebook.
Two of the suspects were hanged and the third one was killed by a firing squad in the Gaza Strip.
Ashraf Abu Leila, 38, was named as the alleged assassin of Mazen Faqha, commander of Hamas' military wing, who was shot in his head and chest in front of his house in Gaza City in March.
Abdallah al-Nashar, 38, and Hisham al-Aloul, 44, were accused of being Leila's accomplices and of collaborating with Israel.
Nashar was shot instead of hanged as he had been part of the presidential guard of Palestinian President Mahmoud Abbas, who leads Hamas' rival political party Fatah group, the news agency AFP reported.
The execution was reportedly live-streamed by Gaza Now news agency from a balcony above the square. Around 7,000 people watched the live stream and a video of the execution temporarily remained online, according to i24 News, based in Tel Aviv.
The news outlet also reported that Hamas' interior ministry threatened legal action as the execution was allegedly live-streamed without the organisation's approval.
"The interior ministry warns against publishing any footage or photos from the execution of the agents of the occupation involved in the assassination of the martyr Mazen Faqha. Anyone who violates this will face legal measures," the ministry was quoted as saying in a statement.
Mustafa Ayach, General Manager of Gaza Now news agency, confirmed to IBTimes UK that one of the agency reporters took the video and uploaded it to Facebook. He added the footage was then taken down and cannot be shown due to security concerns.
"The reporter who took the video is now hiding in Gaza as he fears he could be arrested by Hamas security forces," claimed Ayach, who has been living in Austria since 2015.
"Correspondents in Gaza are under threat," he continued. "We call on the international community to help us."
Ayach has applied for asylum in Austria after fleeing Gaza due to alleged persecution by Hamas security forces, due to his reports.
He claimed he was allegedly kidnapped and forced to "sign a pledge not to publish news without consent". He then decided to flee in 2015.
Rights groups condemned the execution, which took place just weeks after Hamas arrested the three suspects. Amnesty International had called on Hamas to halt the execution, saying it was in breach of international human rights laws.
The video of the execution was posted on Facebook just days after the Guardian disclosed the social media platform's guidelines for monitoring controversial content. According to such guidelines, some videos with violent content might not be automatically deleted as they can help create "awareness for self-harm afflictions and mental illness or war crimes and other important issues".
A spokesperson for Hamas did not reply to a request for comment.
Hamas is regarded as a terrorist organisation by several countries including Israel, the United States and the European Union.
Hamas and its rival, political party Fatah, were involved in an armed conflict that resulted in the split of the interim government body, the Palestinian Authority, in 2007. Hamas has been controlling the Gaza Strip since then.
The two organisations have failed to form a unity government and, for the past 11 years, the territories have failed to hold elections in which both groups took part.