Mancunians say their city, although united, is still coming to terms with its grief after the suicide bomb at the end of an Ariana Grande concert at Manchester Arena on Monday (22 May). A sea of floral tributes in St Ann's Square continues to grow by the hour. IBTimes UK looks back at 25 powerful photos of a city coming to terms with the attack that killed 22 people, including children.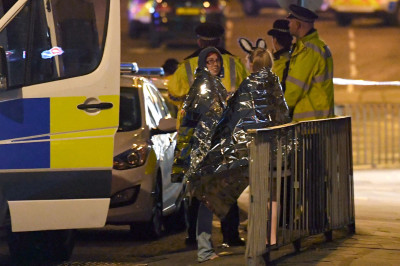 The Queen visited victims of the attack at Royal Manchester Children's Hospital. Fifteen-year-old Millie Robson, wearing one of Grande's T-shirts, told the queen she had won VIP tickets to the pop star's concert. She recalled leaving the concert when the blast struck and remembered an intense ringing in her ears, but not being entirely aware that she was bleeding badly from her legs. The teenager credited her father's quick action in picking her up and tying off her wounds to stem the bleeding. "Compared to other people I'm quite lucky really," she said.
In addition to those killed, 116 people received medical treatment at Manchester hospitals for wounds from the blast. The National Health Service said 75 people were hospitalised.
Salman Abedi, who was born in Manchester in 1994 to Libyan parents, detonated a suicide bomb on Monday (22 May) night at the Manchester Arena indoor venue at the end of a concert by US pop singer Ariana Grande attended by thousands of children and teenagers.