A radio station operated by the Israel Defense Forces is reporting that Hamas claims to have caught a dolphin spying for Mossad — the Israeli intelligence service. No sign of those claims have emerged either on the official Hamas website or Twitter feed, or the Twitter presence of the marine unit of the al-Qassam Brigade military wing of Hamas, which reportedly caught the porpoise.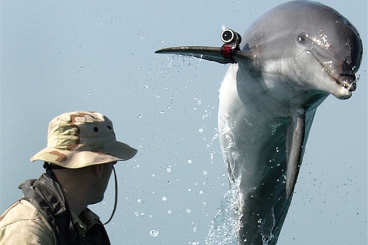 In a report published Wednesday (19 August) on the website of Galatz, a nationwide radio network operated by the IDF, also known as Galei Tzahal or Army Radio, the station claims the dolphin was captured a few weeks ago off the Gaza coast. The report claims that Hamas said the dolphin "was equipped with spy cameras". Hamas did not return IBTimes UK requests for comment by the time of publication.
The IDF responded to a request for information about the source of the report stating that since it was not made by an IDF spokesperson "we have no jurisdiction to provide you with a response." Emails to Galatz were returned late in the day 19 August.
A spokesperson for the radio station pointed to the original source of their report: an exclusive news item in the online Palestinian publication al-Quds. The al-Quds report cites anonymous sources who told the publication that, in addition to a camera, the dolphin was equipped with a device "which was found able to launch 'skewers' and 'arrows'" that could kill a person.
Dolphins have been used for military missions before, notably for the past 40 years as part of the United States Navy's Marine Mammal Program. The animals were used both in the Vietnam War and the Iraq War.