Israel bombed two Gaza City high-rise buildings today, levelling one and severely damaging the other. The blocks contained dozens of homes and shops.
Since Saturday, it has toppled or destroyed five towers and shopping complexes in an apparent new tactic aimed at increasing pressure on Hamas.
In the past, the military has hit targets in high-rises in pinpoint strikes, but left the buildings standing.
Tuesday's strikes levelled the 15-storey Basha Tower with apartments and offices and severely damaged the Italian Complex, built in the 1990s by an Italian businessman, with dozens of shops and offices. Both buildings were evacuated after receiving warnings of impending strikes.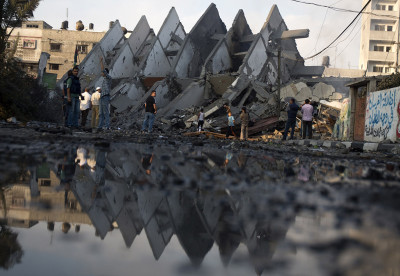 Israeli airstrikes levelled a seven-floor office building and severely damaged a two-story shopping centre in Rafah in the southern Gaza Strip on Sunday.
A total of eight people were killed in Sunday's airstrikes. Israel said one of the dead was a Hamas official involved in handling the group's finances.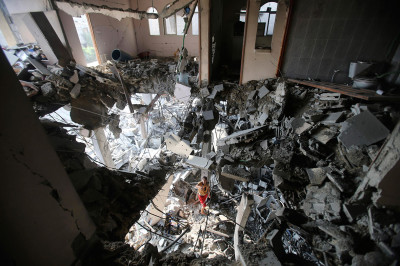 Some 100,000 Gazans have become homeless, with more than 17,000 homes destroyed or damaged beyond repair, according to UN figures.
Since the fighting erupted on 8 July, Israel has launched some 5,000 airstrikes on Gaza, while Hamas militants have fired close to 4,000 rockets and mortars, according to the Israeli military.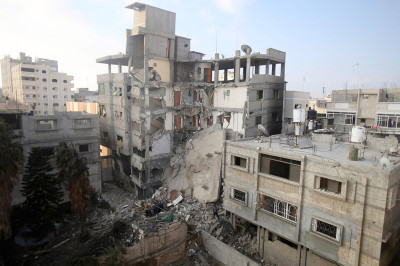 A rocket launched from Gaza caused extensive damage to a home in the southern city of Ashkelon resulting in minor injuries to more than a dozen people.
The crisis has so far claimed the lives of at least 2,133 Palestinians and more than 11,000 wounded, according to Palestinian health officials.
On the Israeli side, 68 people have been killed, all but four of them soldiers.