While more than one million students in Gaza were getting ready for school, Marah Nashwan, 16, was brewing tea. For the last 10 days, Marah has been turned away from her school in Gaza City because she refuses to wear a hijab.
Marah had tears in her eyes as she told IBTimes UK how her principal at the Ahmad Shawki High School for Girls refused to allow her to return to school with her head uncovered. Marah said she was humiliated when returning to school from the three month summer break at the end of August.
"I was scolded and insulted by the school principal in front of everyone, my friends and my classmates. I was so excited to see them again after our vacation," she said. "My happiness was stolen with a big part of my dignity. The hijab is not the biggest issue, my loss of dignity is more important and I have the right to reclaim it."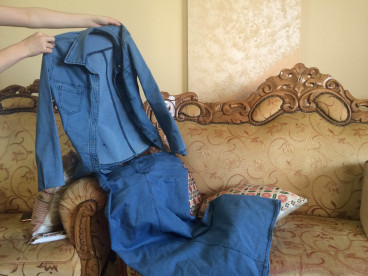 While many women in the Palestinian West Bank do not wear hijabs – headscarves that cover a woman's hair, neck and ears – it is increasingly unusual in Gaza, which has been governed by conservative Islamist movement Hamas since 2006. For Marah, the experience of challenging the situation over the past 10 days appears to made her grow up quickly.
"I addressed my principal politely, trying to understand why she is doing this to me. Why could I not choose if I want to wear hijab or not? I told her I accept you as you are, why not accept me as I am," she recalled. "But she was insistent and told me that wearing a hijab in school is her policy and is not only for religious reasons."
Other teachers at her school have been more sympathetic, Marah said. During religious studies classes – when the 16-year-old would don a hijab – her teacher said that she should not feel compelled to cover her head for anyone but herself.
A 'good Muslim' disrespected
Mohamed Nashwan, Marah's brother, was keen to stress to IBTimes UK that his sister is a good Muslim, praying five times a day and not seeking to court controversy. But he said the attitude of her headteacher was disrespectful – especially in berating Marah in front of her friends and fellow classmates.
"If the school had made the request in a way that protected her dignity maybe they would have convinced her. They don't want her to be convinced, they just want the school to be seen as Islamic.
"We are a Muslim family and Islam has a greater meaning than the hijab to us. We cannot support the loss of dignity in this way."
Marah's father, Karem Nashwan, has also been lobbying the school to allow his daughter to return. He has asked he headteacher to provide legal evidence of why Marah should have to cover her head, she is yet to do so.
"I have to support my daughter's rights. My daughter is caught up in a legal situation and she has the right to go to school," he said.
Hijabs not compulsory
Karem claims that the Hamas Ministry of Education has told him that there is no law that requires girls to wear the hijab at school in Gaza. But at the same time, Ziad Thabet, the Hamas education minister, has told local media that it is up to the school principal how pupils should dress.
He said Hamas believes schools have the right to prevent students from attending if they deem the uniform to be unacceptable. He also claimed that some students that are wearing the hijab may also be prevented if they are wearing cosmetics and make-up.
For Marah, the case is an issue of individuality and choice. It is not about religion.
"We are human beings and have a right to freedom of expression. Now I have to watch my friends from a distance and cannot even shake hands, is this not an injustice?"