Far-right politicians Geert Wilders rebuffed accusations of racism as his hate speech trial drew to a close on 23 November.
The 53-year-old leader of the populist, anti-Islam Freedom Party (PVV) told three judges that he does not consider Moroccan people, whom he is accused of having singled out and discriminated against in a speech in 2014, as a race.
"What absolute nonsense. No nationality is a race," he told the court. "I am not a racist and neither are my voters. They are people who want their country back and who are sick and tired of not being listened to".
The controversial politician, whose party leads in the opinion polls ahead of the March 2017 general election, faces charges of insulting a racial group and inciting racial hatred after comments he made about Moroccans living in the Netherlands at a local election rally two years ago.
He asked the crowd of supporters whether they wanted more or fewer Moroccans in the country and they chanted back "fewer, fewer" ("minder, minder" in Dutch, which is how the Dutch press and social media nicknamed the hate speech trial).
Denouncing the trial as political, he stated: "I had to give up my freedom to do this and I will continue. Always. People who want to stop me will have to murder me first."
Wilders positioned himself as part of the "worldwide movement" that has swept the UK in the Brexit vote and the US with Donald Trump's victory in the presidential election. In what looks like a campaign banner posted on Twitter account, Wilders used Trump's campaign slogan, saying "We will make the Netherlands great again". In a previous tweet posted in Dutch, he reaffirmed that "This is not Morocco. The Netherlands is our country".
Referring to a poll conducted in April 2014 following the incriminating rally, Wilders told the court 43% of people in the Netherlands want to have fewer Moroccans in the country. "If you convict me, you will convict half of The Netherlands," said Wilders, adding that he needs to protect the country from "the huge problem with Moroccans in the Netherlands".
The poll indicated that the response to the question depended on party affiliation. Among Wilders' PVV 95% of the voters responded fewer, as did 59% of ruling centre-right VVD party, while only a minority of voters of other centre or left-wing parties supported having fewer Moroccans.
Wilders' 2014 statements were met with outrage and more than 6,400 complaints were made to the police. Public prosecutor Wouter Bos said that Wilders can "say what he wants" so long as this "does not discriminate against a group of people solely because of where they come from."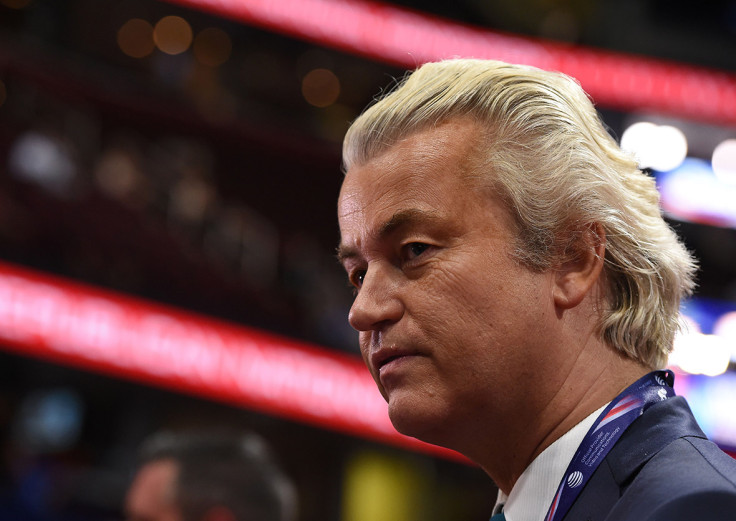 Prosecutors are asking for a €5,000 (£4,250) fine against Wilders. Goran Sluiter, a lawyer representing the people who are demanding compensation from Wilders, told the judges "that only the law can protect minorities" in the Netherlands from "an evil that is called discrimination".
But in his defence speech, which was televised and was posted on YouTube by his party with English subtitles, Wilders casted himself as a victim who has to live under police protection due to constant death threats, saying that speaking his mind was "the only freedom I have".
Wilders is notorious for making Islamophobic remarks in his speeches, including comparing the Koran to Hitler's Mein Kampf. He was temporarily barred from entering the UK in 2009 on hate speech grounds, and has been living under 24-hour police protection since 2004, after the assassination of film director Theo van Gogh.
He previously stood trial on similar hate speech charges, but was found not guilty in June 2011. In the verdict of a trial that divided national opinion over the meaning of freedom of speech, the judge ruled that Wilders remarks were allowed in the context of public debate, although they were "gross and denigrating".
Episodes of anti-Muslim discrimination are dramatically increasing in the country, with data presented by the Dutch police showing that the 439 incidents recorded in 2015 more than doubled those of the previous year. Muslim women and men who wear clearly recognisable Muslim clothing such as headscarves are particularly targeted in Islamophobic attacks.
The court is expected to rule on the case on 9 December.