The authorities have failed to get a grip on the "growing threat" of Britain's far-right movement, leaving the country open to another killing like that of Labour MP Jo Cox, a prominent campaign group has warned.
Far-right extremist Thomas Mair, 53, was on Wednesday (23 November) jailed for life for shooting and stabbing Cox outside her Batley and Spen constituency library in the market town of Birstall, West Yorkshire, a week before the EU referendum on 16 June.
He shouted "Britain first" and "This is for Britain" as he carried out a pre-meditated attack on the 41-year-old Remain campaigner.
Police later found a stash of far-right books and Nazi material at his council house in Birstall.
Anti-racism charity Hope not Hate – one of three organisations chosen by Cox's family to receive nearly £2m (€2.4m, $2.5m) donated by the public after her death – welcomed Mair's conviction, describing him as a "brutal killer and far-right terrorist, inspired by violent fantasies of race war".
But it warned the case had highlighted the "ever-present threat of far-right terrorism" in Britain, a threat it believes the authorities "are not taking seriously enough".
The charity claimed far-right activists and groups across the country regularly get away with threats of violence and racist incitement that would not be tolerated if they were Muslim extremists. It warned there is a danger that extreme race hate, left unchallenged, will continue to inspire white supremacists like Thomas Mair to commit further acts of terrorism and violence in the future.
"More needs to be done to tackle the growing threat of Britain's far-right," Nick Lowles, Hope not Hate's chief executive, said. "While it might be numerically smaller than in the past, it is becoming more violent and dangerous.
"And while the authorities will always prioritise targeting those individuals who could carry out terrorist attacks, it is also vital that they target the people who peddle the hatred that inspired the likes of Thomas Mair. This is something they have repeatedly failed to do."
Hope Not Hate said Mair's case was "not unique", pointing out that there had been at least 48 other far-right supporters convicted of offences relating to terrorism, murder or extreme-violence in England and Wales during the past 16 years.
This includes Terrence Gavan, a former member of the British National Party (BNP) who lived just three miles from Mair in neighbouring Batley.
He was jailed for 11 years in 2010 after turning his mother's house into a bomb-making factory, with officers finding a cache of 54 improvised explosive devices (IEDs), some of which contained ball bearings and nails, together with a dozen firearms.
Radicalised over 30 years
Mair, born in Kilmarnock, Scotland, now joins this disturbing group of convicted British far-right extremists.
An unemployed gardener, he lived on his own in his council house in Lowood Lane, Birstall. He was described by his neighbours as "mild-mannered" and said to have hidden his extremist views, never talking to them about politics.
His interest in the far-right appeared to be slow-burning and can be traced back to the early 1990s, when he started to engage with white supremacist groups abroad. He was a subscriber of S.A. Patriot, a magazine by South African pro-apartheid group White Rhino Club.
In 1991, he had a letter printed in the publication where he bemoaned the idea of majority rule in South Africa.
"Despite everything I still have faith that the White Race will prevail, both in Britain and South Africa, but I fear it's going to be a very long and bloody struggle," he wrote.
In another chilling letter published in the same magazine, he wrote: "In my opinion the greatest enemy of the old Apartheid system was not the ANC and the black masses but White liberals and traitors."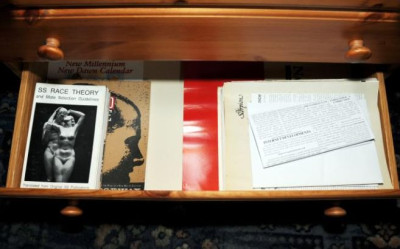 The late 1990s saw him drawn to groups in the United States, including the National Alliance, a white nationalist organisation based in West Virginia and founded by the late William Pierce, whose novel, The Turner Diaries, was alleged to have influenced Oklahoma City bomber Timothy McVeigh.
Pierce's writings were also said to have influenced David Copeland, the London nail bomber who targeted the city's black, Asian and gay communities over 13 days in April, 1999.
Documents obtained by the Southern Poverty Law Center (SPLC), a US civil rights body, showed Mair had about $620 worth of books delivered to his home in Birstall from the National Alliance between 1999 and 2003. This included a bomb-making manual and a pamphlet on how to build a pistol.
A police search of Mair's property after he was arrested also uncovered a stash of far-right material.
This included a golden Nazi eagle ornament adorned with a swastika, an SS officer's book on race theory, material on white supremacist groups and press cuttings on right-wing Norwegian mass killer Anders Breivik.
While Mair appeared to have spent the best part of three decades ruminating on an upcoming race war in the West, and building on his hatred of "white, liberal traitors", it was only during the Brexit campaign that Mair decided to act on his extremist views by killing Cox.
"In targeting a British MP, Mair was following a growing list of British Nazi terrorists who believe that they are at war with the system," Lowles said. "This ideology, which sees the state – and in particular liberal politicians – as more of a target than minorities, became dominant among UK Nazis in the 1990s and remains a strong pillar of their thinking today.
"While Thomas Mair pulled the trigger, neo-Nazi propagandists must share some responsibility for fuelling and directing the hatred and violence inside him."
Cox had been preparing to release a report in the House of Commons on the dangers of the far-right and the rise of Islamophobia before she was killed.
After her death the Home Affairs Committee said it would look into the danger of the far-right, with some committee members reportedly eager for an inquiry.
Combating domestic extremism is the responsibility of the police, with the National Counter Terrorism Policing Operations Centre (NCTPOC) monitoring information and intelligence on all forms of violent extremism.
Following Mair's conviction, the head of the Crown Prosecution Service (CPS), Sue Hemming, vowed to "combat those who seek to sow hatred and division by advancing extremist ideologies".