General election spending revealed: Cash went on spin doctors, Pizza Express and chicken suits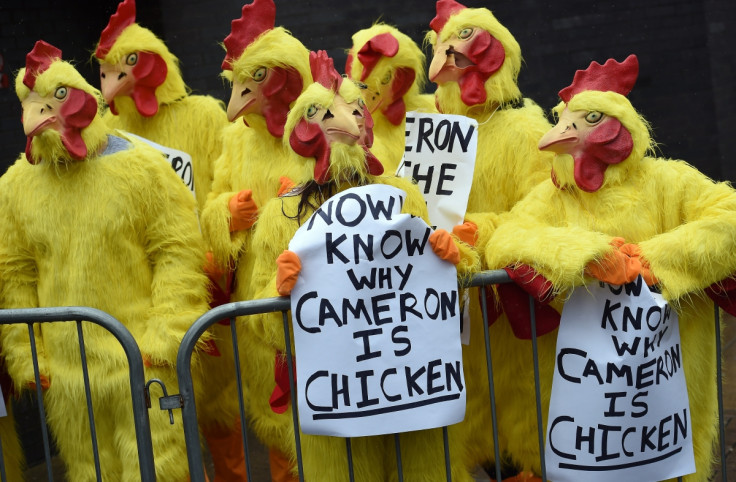 A staggering £36m ($50.9m) was spent by the main British political parties during the general election, official data released on 20 January revealed. The Electoral Commission's figures showed the Conservatives spent the most with a total expenditure of £15.6m, under the national campaign spending limit of £19m.
Labour ranked second with £12m, the Liberal Democrats came in third with £3.5m and Ukip came in fourth with £2.8m. The SNP, which secured 56 out of 58 Scottish seats at the general election, spent just £1.4m and the Greens had a total expenditure of £1.1m.
The Electoral Commission also revealed that a total of £39m was spent for the May ballot across 57 parties and 23 non-party campaigners. The data showed Labour spent more than £223,000 on services from AKPD, which was founded by American media adviser David Axelrod.
The Conservatives, in comparison, gave Lynton Crosby's firm CTF Partners more than £2.3m for "market research/canvassing" services. The Australian lobbying guru was knighted after the election as part of The Queen's New Year honours. The official data also revealed some surprising costs from the political parties.
Labour spent more than £577 on chicken suits, Ukip was billed just over £400 by an Italian restaurant in Essex and Labour spent more than £650 for "overheads and general administration" at a Pizza Express in Cardiff. As for social media, the Tories spent more than £1.2m on Facebook advertisements, while Labour spent just over £16,400 and Ukip gave the technology firm almost £70,000.
Spending of main parties during general election compared to result
Conservative Party: £15,587,956
Votes: 11,300,109
Seats: 330
---
Labour Party: £12,087,340
Votes: 9,37,324
Seats: 232
---
Liberal Democrats: £3,529,106
Votes: 2,415,862
Seats: Eight
---
Ukip: £2,851,465
Votes: 3,881,099
Seats: One
---
SNP: £1,475,478
Votes: 1,454,436
Seats: 56
---
Green Party £1,131,018
Votes: 1,157,613
Seats: One
Source: Electoral Commission
© Copyright IBTimes 2023. All rights reserved.