Genesis Mining billboards say Jamie Dimon is right - 'Bitcoin will eat your lunch'
JP Morgan CEO mocked by cloud mining operation.
Environmentally conscious cloud mining operation Genesis Mining is continuing its guerrilla marketing for Bitcoin, with a mobile billboard campaign across Miami replying to JP Morgan CEO Jamie Dimon's comment that Bitcoin could "eat our lunch".
If the current excitement around blockchain technology of all kinds is anything to go by, Dimon was right to warn that "Silicon Valley is coming". He famously stated during an event that Bitcoin developers are "coming to eat our lunch. And that's fine. That's called competition, and we'll be competing".
Marco Streng, CEO and founder of Genesis Mining, said in a blog post; "Well, Mr Dimon, you're right. But it's not just Silicon Valley. Technology is being developed in places like Boston, Israel, and Singapore that are threatening Wall Street's grip on global finance. Leading that charge is Bitcoin and Blockchain. Big banks like JP Morgan have had a 'monopoly on money' for far too long, and for the first time ever, that's changing.
"The big banks are woefully behind the innovation curve and are only just now beginning to realise it. Many have adopted an antagonist response to the disruptors in their industry, but it's already too late. Because what they don't realise is they can't stop innovation. You just can't stop hundreds of millions of consumers who are fed up with an archaic monetary system that is controlled by a handful of wealthy Wall Streeters.
"Be ready to compete against hundreds of thousands of hungry young entrepreneurs ready to solve the problems you've left untouched for decades. As a kind reminder, we've taken out billboards throughout Miami with a message for bankers like Jamie Dimon: Bitcoin is coming to eat your lunch."
Genesis previously ran a tongue-in-cheek nationwide media campaign to promote Bitcoin, loosely titled: "15 Times Experts Were Dead Wrong About Technology", which included such gems as Western Union's prediction: "This 'telephone' has too many shortcomings to be seriously considered as a means of communication" – from an internal memo in 1876.
Genesis offers any individual the chance to join a mining pool, with operations based in Iceland tapping into natural and sustainable geothermal and hydro-generated electricity.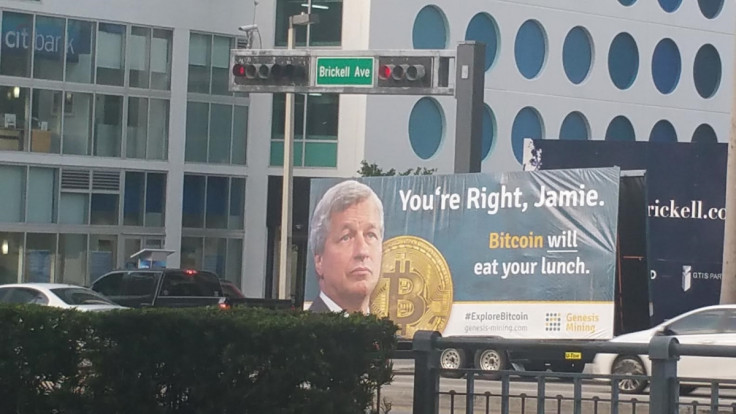 © Copyright IBTimes 2023. All rights reserved.