He's one of the most fan-friendly sports stars on the planet, and yet Gennady Gennadyevich Golovkin could probably walk through the aisles of your local Morrisons without anyone batting an eye lid. The affable Kazakh celebrated his 34th birthday earlier this year, but at a stage in life when most professional fighters are looking to cement their legacy, Golovkin has been furiously scrambling around for the first big-money fight of his career.
He's now landed one, against Britain's Kell Brook, the IBF welterweight champion who has spent the last few years chasing a money-spinning bout of his own against domestic rival Amir Khan.
The problem for Golovkin – or Triple G, as he is better known – is that as he nears the twilight of his unblemished professional career (35-2-0), he is still to face a legacy-defining opponent. And, unfortunately, Brook isn't it.
The Sheffield-born fighter is a solid welterweight champion stepping up two weight divisions to face Golovkin. Aside from the career-high paydays both men are in line to pocket, there is little logic in making this bout.
Golovkin is bigger, better and ought to win inside the distance. Easily. To underline his status, Brook will be Golovkin's 17th world-title bout — none of the previous 16 have gone 12 rounds.
So, by the mid-point of 2017, Golovkin is likely to be among the top two or three pound-for-pound fighters on the planet, with a perfect professional record and a barely-believable knockout percentage. But why does he not have the riches and recognition to match his talents?
Golovkin is a knockout artist, one of the hardest-punching middleweights in history who, unlike some of his contemporaries, is willing to face anyone. He is also a legitimately likeable guy in a sport dominated by foul-mouthed egotists.
Triple G has overcome the odds, too, to establish his reputation in boxing circles, becoming the only bona fide boxing star from Kazakhstan. He is also a silver medallist from the 2004 Olympics and recently claimed he was cheated out of wining the all-important gold that could have seen his career earnings skyrocket.
He told The Times: "After the semi-final I was told, 'Just one gold medal for Kazakhstan in boxing, hey G, you understand?' I said, 'OK, no problem.' And he said 'not for you, for the junior-middleweight [Bakhtiyar Artayev]'. I said 'what?'.
"The gold medal and the Val Barker trophy [best boxer at the Olympics award] was bought before. He won, the Russian [Gaydarbek Gaydarbekov]. Not really win, but he won. It's OK. This is my experience, this is part of my life and I like my life. I understand how it works."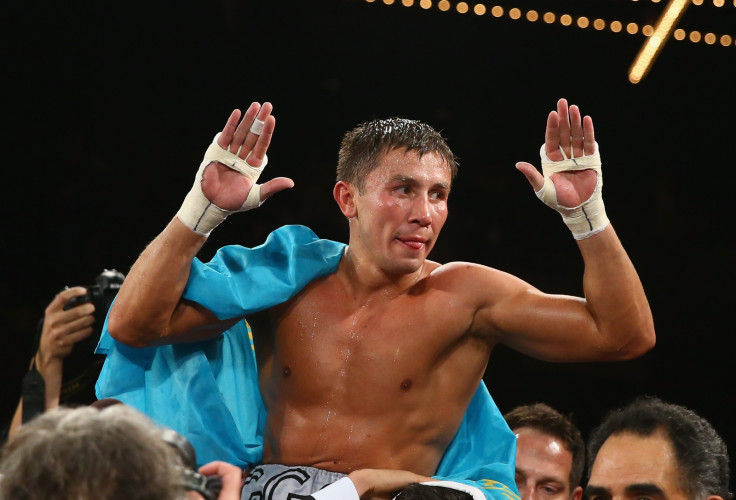 Golovkin's Kazah background and his broken – but improving – English have made him a difficult sell to an American audience, who continue to dominate the sport's economic landscape. There is also the problem that, besides Saul 'Canelo' Alvarez, there are few, if any, fighters in and around Golovkin's weight division who are capable of pushing him. And those who can, like the flame-haired Mexican, have opted against facing him.
That's why Brook's strong support in the UK makes him an attractive proposition for someone like Golovkin, because it will introduce him to more casual, money-spending sports fans. But as a measure of the mismatch this fight is, the WBA has refused to sanction the bout.
How sad, then, that boxing's most eye-catching star is reduced to chasing inferior opponents. The iniquity of the so-called sweet science is that great fighters, such as Floyd Mayweather Jr and Manny Pacquiao, have earned hundreds of millions of dollars during the course of their careers, while other similarly great champions, such as Juan Manuel Marquez and Golovkin, spend their professional lives frantically chasing the recognition their landmark talents merit.
Perhaps a one-sided victory against a blown-up welterweight will help Golovkin to become a crossover star. Or perhaps, more likely, it will be another signpost in a career that appears destined to underwhelm.