Controversial Respect MP George Galloway has finally confirmed he will bid to be Boris Johnson's replacement when he stands down as Mayor of London in 2016 – but only if Galloway loses his seat in Bradford West on 7 May.
Speaking to Sky News while out on the campaign trail, Galloway said: "I won't run for London Mayor if I am re-elected on 7 May. If I am not re-elected, I will run. It's as clear an answer as I can possibly give up."
Galloway had previously refused to confirm or deny whether he would stand for Mayor, preferring to concentrate on his constituency. If Galloway had announced his intention to stand while retaining his seat, he would have faced similar criticisms to those levelled at Boris Johnson.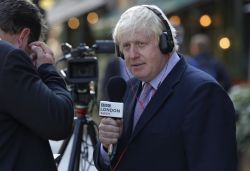 Johnson is standing as MP for Uxbridge while continuing in his role as mayor, despite previously saying he would not do so.
"Gorgeous" George was elected by a landslide in Bradford West in 2012, but this time round the bookmakers say the result will be much closer. His Respect party are narrow favourites but Labour's Naz Shah could attract many of the Muslim voters who picked Galloway, partly because of his controversial views on Israel, Gaza and the US.
Galloway has come in for particular criticism in Bradford, telling Israelis they weren't welcome in the city and disputing Shah's claim she was the victim of a forced marriage – which she subsequently proved was true. Galloway also attempted to sue Twitter users who called him anti-Semitic, but his solicitors then found themselves investigated.
Should Galloway be removed from office, he will be poised to make a dramatic return to the capital, where he represented the seat of Bethnal Green and Bow between 2005 and 2010. Galloway was thumped by Neil Masterson in London for comments he made about Gaza. Masterson was jailed for 16 months.
A regular presenter on Iranian-funded Press TV, Galloway remains one of politics' most divisive and charismatic figures. Today it emerged that in 2003, when a charity he set up on behalf of children in Iraq was being investigated, he wrote to the Charity Commission to state the charity had received no cash from Iraq. Today's The Times claims this was a false assertion.