Former US President George H W Bush will vote for Hillary Clinton in the November election, according to a member of the Kennedy family. The snub of Republican candidate Donald Trump emerged after Kathleen Hartington Kennedy Townsend, the daughter of the late Robert F Kennedy, posted a picture on Facebook showing her shaking hands with Bush Sr.
A caption underneath read: "The President told me he's voting for Hillary!!"
Townsend, a vocal supporter of Clinton, later repeated the claim in an interview with Politico, saying: "That's what he said."
Jim McGrath, a Bush family spokesman, said in a statement: "The vote President Bush will cast as a private citizen in some 50 days will be just that: a private vote cast in 50 days. He is not commenting on the presidential race in the interim."
Bush Sr, who served as president from 1989 to 1993, has endorsed every Republican nominee for the last five US elections, including rival Bob Dole in 1996.
He has been mostly silent on the White House race between Democrat candidate Clinton and Trump.
The 92-year-old had said in May he would not endorse Trump, with his spokesman saying the Republican grandee was "retired from politics".
His refusal to back his party in the US election came after his son, Jeb Bush, was in a verbal attack with Trump during the 2016 Republican primary.
The former governor of Florida was branded by Trump a "low energy" candidate, while Jeb Bush attacked the billionaire tycoon's "abrasive, Know Nothing-like nativist rhetoric".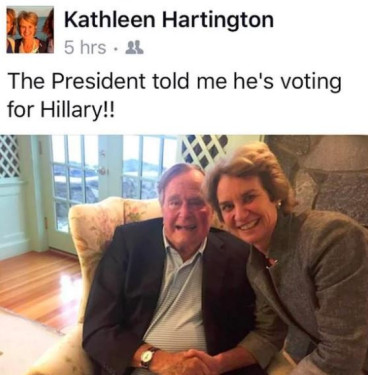 Jeb Bush's brother, former US President George W Bush, has also refused to endorse Trump, saying he did not plan to "participate in or comment on the presidential campaign". His wife, Laura, has hinted she may vote for Clinton.
The failure to gain the support of Republican grandees like the Bush family will be a blow to Trump and his efforts to unite the party establishment behind him.
He has lost support from some sections of the party following divisive policy proposals and campaign rhetoric that critics said would often resort to personal insults.
One Bush administration official who has come out in support of Trump is former vice president Dan Quayle, who served under Bush Sr.
He said in a July interview that he was still hoping the Bush family would put their weight behind the Republican candidate, saying: "Clearly in their heart of hearts I should hope they would want a Republican president, but they can speak for themselves."