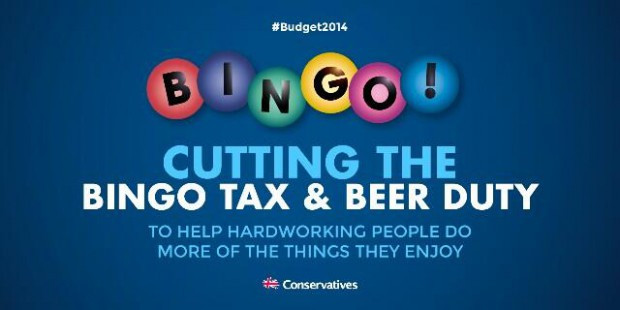 An internal Tory party spat has erupted over the infamous "beer and bingo" tweet that revived accusations of the party's "them and us" attitude towards working people amid claims that the gaffe had been sanctioned by both the chancellor and No 10.
Senior party figures were engaged in a briefing war over exactly who authorised the posting after chairman Grant Shapps was being lined up to take the blame for the affair.
Until now, Shapps had been identified as the culprit amid suggestions the party's high command had not see the offending graphic.
And on the day neither the chancellor, George Osborne, the prime minister nor any other minister suggested they had seen the post before it was tweeted, or offered much support for Shapps.
Indeed, senior Tories were suggesting he was facing the sack in a summer reshuffle as a result of the blunder.
Osborne was specifically asked about it and simply attacked Labour for whipping up the story to detract from his Budget.
But as talk about Shapps future intensified in Westminster it was reported that Osborne, Downing Street "elections guru" Lynton Crosby and the prime minister's political secretary Stephen Gilbert had all approved the tweet without spotting the potential negative implications.
David Cameron attempted to play down the damage caused to the Tories over the tweet suggesting it was all a "massive storm in a teacup".
He also said he had not seen the graphic but that it was "patronising to say we shouldn't help bingo and pint in the pub".
It was evident that Shapps believed he was being hung out to dry over the posting and had authorised a counter-attack in a bid to spread the blame and avoid becoming the scapegoat for the affair.
The Daily Telegraph was told that Osborne, Crosby and Gilbert had all agreed the "concept and wording" of the tweet during a Budget Day meeting aimed at crafting political messages to put out after the event.
Tory MPs told the newspaper it was unfair that the chairman was being expected to take all the flak for a decision taken at the highest level.
And even those who had been calling for his head offered some support, with one saying: "It seems Shapps was being expected to do the decent thing and carry the can but it would be entirely unjust for him to lose his job over this."
So, with Shapps apparently not prepared to roll over and play dead, it is likely much of the chatter over his position will now die away.