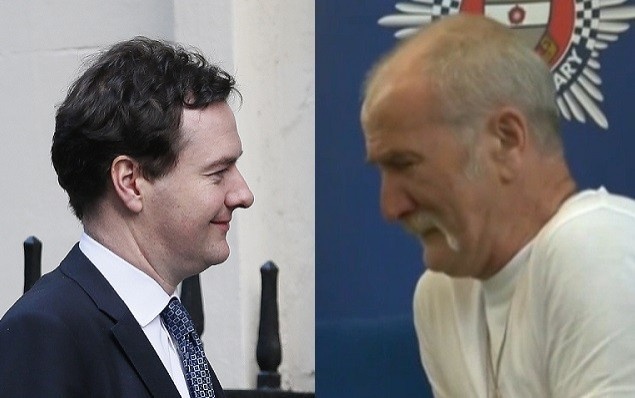 Foreign Secretary William Hague has defended George Osborne's attempt to use the case of child killer Mick Philpott to justify welfare reform.
Last week the Chancellor cited Philpott, who was jailed for killing six of his children in a house fire, as an example of the most egregious excesses of Britain's benefit culture.
Osborne said: "I think there is a question for government and for society about the welfare state, and the taxpayers who pay for the welfare state, subsidising lifestyles like that. And I think that debate needs to be had."
Philpott was receiving more than £100,000 in benefits entitlements meant for his wife, mistress, and 17 children, as well as himself.
The chancellor's comments on Philpott were seen as a populist gamble by critics, who accused him of hijacking a shocking tragedy. Shadow Chancellor Ed Balls called it "the cynical act of a desperate chancellor," while deputy Labour leader Harriet Harman says the Philpott case was "a problem of someone who was a criminal" and had nothing to do with welfare.
However Hague, speaking to BBC presenter Eddie Mair on the Andrew Marr Show, insisted Osborne's observations were "absolutely correct", adding:
"I think the chancellor does a great job in very difficult circumstances, but I don't think it's necessary to find favours for him to do for himself. I support him through thick and thin."
Hague's remarks come on the day Liam Byrne, Labour's shadow work and pensions secretary, said the party was considering changing the welfare system to "strengthen the principle of contribution", and reward those who give more to the community.
Byrne's move was seen as a response to the reforms taking effect this month, with a tax break coming into effect for the very rich, lowering the tax rate for those earning more than £150,000 from 50p to 45p.
In response to Byrne's comments, Hague said: "It's an important political issue, and I think the debate is long overdue.
"It's been triggered off in the last week not by what has been said, but by what's been done. This month some of the more important changes we've made start coming into effect."
'An aristocrat in a powdered wig'
Mair pressed Hague on the widely-held view of the chancellor as arrogant and out of touch, quoting a description of Osborne in the Daily Mail as "an aristocrat in a powdered wig, nervously peering through his carriage windows at the Paris mob on the eve of the French revolution."
Hague replied: "We all get our share of abuse. Heaven knows I've had more than my share. The chancellor - I know him well, he used to work for me. He's used to taking all that on the chin."
Pressed specifically on Osborne's latest gaffe, when his car was photographed in a disabled parking space, Hague said:
"When other people are driving cars, this can happen. "It's not something the chancellor goes around doing all the time. Those sorts of things are best avoided, but such things unfortunately do happen."
'British people are the fairest in the world'
Meanwhile Prime Minister David Cameron has insisted that welfare reforms are "putting fairness back" into Britain. He said it was "crazy"that claimants could have a bigger income on benefits than work and argued it is "fair that we all play by the same rules".
Writing in the Sun, Cameron said that the system "was designed to bring us together, but is causing resentment", adding: "I think the British people are about the most fair and generous people on the planet - but no-one wants to work hard every day and see their hard-earned taxes being used to fund things they themselves cannot afford or keep generations dependent on welfare."
An opinion poll for the newspaper found six out of 10 voters believe benefits are too generous and 79 percent back the Government's plan to cap a family's benefit at £26,000 a year.