A painting by George Zimmerman, who was acquitted of the murder of black teenager Trayvon Martin in a vigilante attack, has fetched more than $100,000 on eBay.
The signed painting depicts the Stars and Stripes in blue, with the slogan "God, One Nation, With Liberty and Justice for All".
It was posted on the bidding site on 16 December, and provoked a bidding frenzy.
The auction closed on Saturday, with the winning bid of 96 for what Zimmerman claims is his first artwork reaching $100,099.99.
Zimmerman, 30, posted a picture of himself holding the painting, and in his eBay listing he added: "Everyone has been asking what I have been doing with myself. I found a creative, way to express myself, my emotions and the symbols that represent my experiences.
"My art work allows me to reflect, providing a therapeutic outlet and allows me to remain indoors :-) I hope you enjoy owning this piece as much as I enjoyed creating it. Your friend, George Zimmerman."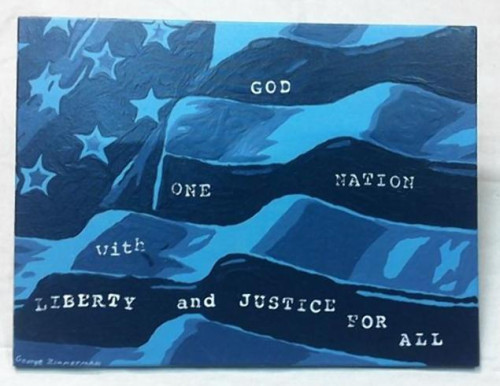 His lawyer, Jayne Weintraub, said that since the trial Zimmerman had struggled to find employment.
"Unfairly, he has not been gainfully employed of late and he's utilising his talent to make some money," she said.
Zimmerman, a neighbourhood watch volunteer, followed and confronted Martin as he was walking through a gated community after visiting a convenience store in Miami, Florida.
He was accused of racially profiling and murdering the 17-year-old, but a six-person jury earlier this year found he had acted in self defence, sparking nationwide protests.
Since the trial, Zimmerman has had several brushes with the law, having been stopped twice for speeding, and questioned by police when his estranged wife called 911, claiming he had threatened her with a gun.
In November he was arrested on suspicion of assaulting his girlfriend, who later withdrew the allegation.