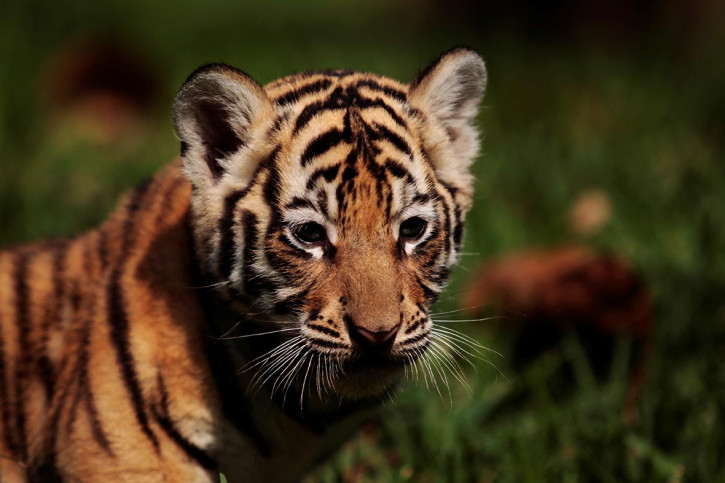 Georgia police shot and killed a Bengal tiger on Wednesday (7 September) after it escaped from the truck of an entertainment company and wandered on the busy interstate near Atlanta. The animal was being transported from Florida to Tennessee.
Numerous sightings of the tiger were reported along Interstate 75, the Georgia Department of Natural Resources said in a statement.
The tiger somehow got loose when the truck hauling 14 big cats stopped to feed them at the south of Atlanta, it added.
The Feld Entertainment company that was transporting these animals was not aware that the tiger was out of the truck, the department said.
The company spokesman Stephen Payne said that Suzy, the six-year-old Bengal tiger had once performed in the Ringling Bros and Barnum & Bailey Circus.
"We stopped in Georgia to feed and water the cats and for a quick rest break for the driver, and that's where we believe the animal escaped and was later confronted by law enforcement," Payne said.
Suzy was going back to its European owner and animal handler Alexander Lacey after the circus ended its 146-year run this year, Payne added.
Police began receiving calls around 6am local time (11am BST) about a tiger prowling I-75 near Stockbridge. The interstate was already jammed with traffic as people were fleeing Hurricane Irma that could hit Florida or the Gulf Coast.
The tiger attacked a dog in the backyard of a residence, prompting the police to shoot and kill the animal.
"When the tiger became aggressive towards pets in the area, it was deemed necessary for public safety to put it down, and it was done quickly and humanely," the department said.
Brittany Speck, who's dachshund Journey was attacked said that her dog was "going crazy in the backyard," and that she had called 911 when she spotted the tiger.
After the call, the tiger jumped on her dog, who was unharmed, Time reported.
"The officers I guess just started firing rounds and took it down and then gave me my dog back," she told The Atlanta Journal Constitution news website.