California teenager arrested after trying to smuggle Bengal tiger cub into the US
The teen told border officers he bought the male tiger cub for $300 off the streets of Tijuana, Mexico.
A California teenager was arrested after attempting to smuggle a tiger cub he bought in Mexico into the US Wednesday (23 August).
US Customs and Border Protection (CBP) officers discovered the tiger cub lying on the floor of a 2017 Chevy Camaro on the passenger side around 1.30am, the agency said in a press release.
Luis Eudoro Valencia was charged with smuggling a Bengal tiger into the US on Thursday (24 August). The 18-year-old US citizen, who lives in Perris, said he bought the little feline for $300 (£234) on the streets of Tijuana, Mexico.
Valencia said he bought the tiger cub from someone who was walking a full-sized tiger on a leash in Tijuana, according to court documents. Mexican authorities have seized several tigers in Tijuana this year.
The male tiger cub was rescued and put into a crate before being handed over to US Fish & Wildlife Service officers. It is now being cared by the San Diego Zoo Global.
"CBP officers are often faced with unusual situations," said Pete Flores, director of field operations of CBP in San Diego. "The CBP officers at the Otay Mesa port of entry met the challenged head on and assisted in preserving the life of this endangered species."
According to the Associated Press, Mexican authorities seized a Bengal tiger in Tijuana in January after a resident called police to report a man walking a tiger on a dog leash. The 4-month-old tiger had reportedly been living in a private home with children, officials said.
Another Bengal tiger was seized by Mexican officials in Tijuana after the 9-month-old cub fell from a third-floor terrance onto a neighbour's patio, the San Diego Union-Tribune reported. The tiger appeared to be in good health despite the fall.
Valencia was released on a $10,000 (£7,800) bond. He was ordered to appear for a preliminary hearing on 5 September in federal court in San Diego. According to New York Daily News, Valencia faces up to 20 years in prison if convicted.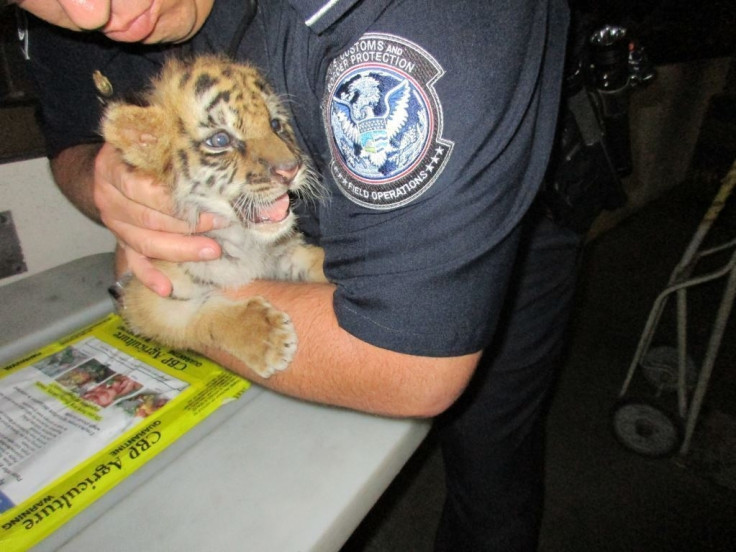 © Copyright IBTimes 2023. All rights reserved.