German broadcaster deletes satirical poem about Turkey's President Erdogan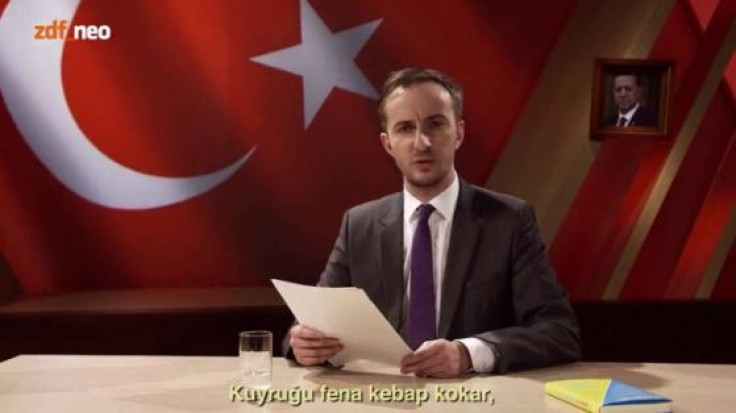 German public broadcaster ZDF said it had removed a satirical poem about Turkish President Recep Tayyip Erdogan from its website, prompting accusations German authorities had buckled under pressure from Ankara. The poem which contains sexual innuendos was recited by presenter Jan Boehmermann on weekly satirical show ZDFneo and accuses Erdogan of repressing minorities including Kurds.
On Friday, ZDF programmes director Norbert Himmler told the DPA news agency that the poem "exceeded" the limits of satire, and had been removed from the version of the programme available for viewing online, and would also not feature in repeats of the show.
During the programme Boehmermann explained that defamatory content could be blocked by German courts, before reading out the poem. "I think we have spectacularly shown, jointly with ZDF, where the limits of satire lie by us in Germany. At last!" quipped Boehmermann in a Facebook posting on Monday.
In the programme Boehmermann alluded to a satirical song about Erdogan broadcast recently by NDR, which prompted officials in Ankara to summon the German ambassador. German officials insisted after the broadcast that it regarded the right to free speech as inviolable.
However on Monday in a conversation with Turkish Prime Minister Ahmet Dovutoglu, German Chancellor Angela Merkel agreed that the poem was a "deliberately abusive text", and "pointed to the actions already taken by the transmitting broadcaster", though reiterated the "high value" Germany placed on free speech, a government spokesman said.
The remark is a rare criticism of media by the government, with Merkel currently involved in sensitive negotiations with the Turkish government to limit the flow of refugees entering the EU. Since becoming president 14 months ago, Erdogan has launched thousands of lawsuits against people accused of insulting him, including academics, journalists, and retired Turkish football World Cup star Hakan Sukur.
© Copyright IBTimes 2023. All rights reserved.