Turkey: Political hacktivist leaks 'citizen database' containing 50 million personal records
49,611,709 Turkish citizens are reportedly included in the data dump.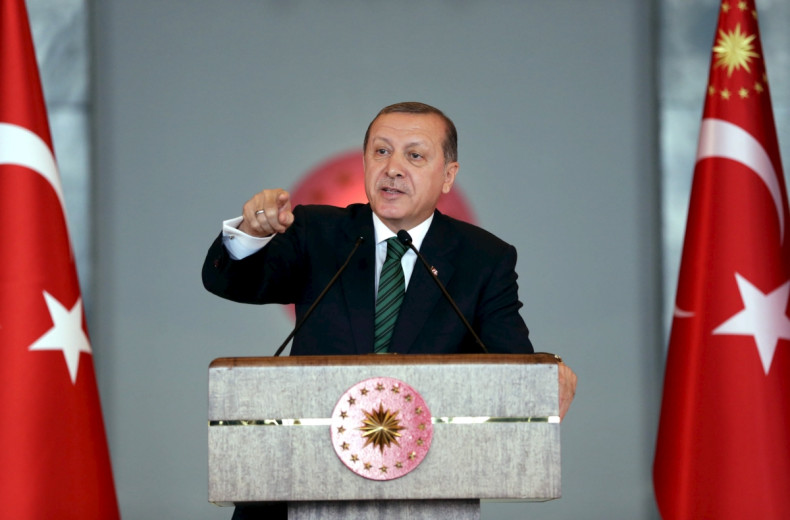 A massive data leak has appeared online that purports to contain the hacked details of almost 50 million Turkish citizens – including the country's president Recep Tayyip Erdogan.
In an attack that appears to be politically motivated, the unnamed hacktivist has uploaded a trove of details in a 6.6GB file that claims to hold the first and last names, national identifier numbers, mother and father's first names, gender, city of birth, date of birth, full address, ID registration cities and districts of 49,611,709 Turkish citizens.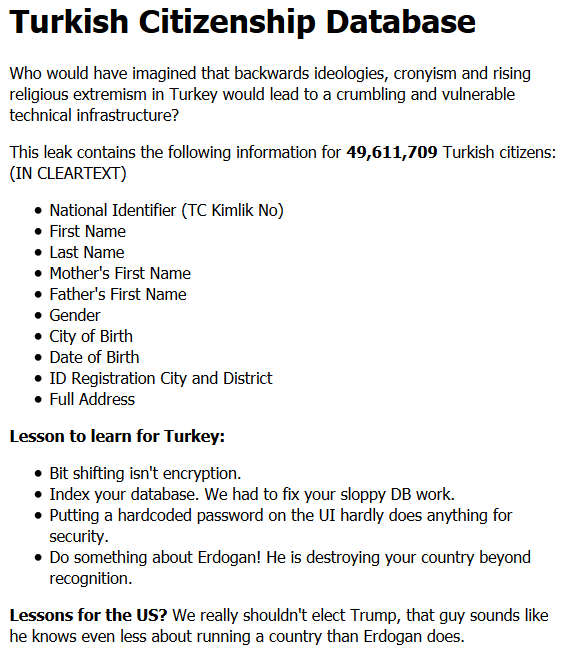 Pictured: Screenshot of the alleged database leak
Screenshot
On the download page, the hackers wrote: "Who would have imagined that backwards ideologies, cronyism and rising religious extremism in Turkey would lead to a crumbling and vulnerable technical infrastructure?"
According to Softpedia, most of the leaked data is already available via personal documents, which could bring the validity of the hack into question.
However others, including security researcher Jacob Appelbaum have noted that, if legitimate, the breach would be hugely significant. In order to prove the authenticity of the leak, the hacker published what is claimed to be the details of Recep Tayyip Erdogan, Turkey's current president and former prime minister.
Alongside the political note, the hacker listed a number of 'lessons' aimed at Turkish authorities including "bit shifting isn't encryption" and "putting a hardcoded password on the UI hardly does anything for security". Lastly, the hacker added: "Do something about Erdogan! He is destroying your country beyond recognition. Lessons for the US? We really shouldn't elect Trump, that guy sounds like he knows even less about running a country than Erdogan does."
Hackers, many linked with the Anonymous hacking collective, have an established history of targeting Turkey. Most recently, a hacker unleashed a trove of data that contained 17.8GB worth of information compromised from a Turkish national police database. Anonymous officially 'declared war' on the country in 2015. In a video statement posted online at the time, the notorious group accused Erdogan's government of supporting the Islamic State (Isis), also known as Daesh.