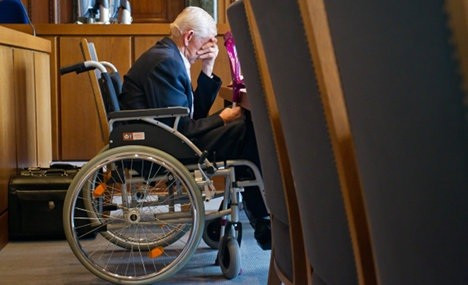 A German pensioner, dubbed the German Friztl, has been cleared of raping his daughter nearly 500 times over three decades after he claimed she was a willing participant.
Adolf Bergbauer, 69, was sentenced to two years and eight months for incest after having a sexual relationship with his now 46-year-old daughter for 34 years and fathering three children with her.
Prosecutors pressed for a 14-year sentence after they claimed Bergbauer had started to rape his daughter when she was 12 years old.
He admitted having a sexual relationship with his daughter but denied raping her, claiming that the relationship was consensual. He told the court that it was his daughter who always propositioned him.
"I did not undress myself," he said. His daughter strenuously denied the claim.
The defendant said that consensual sex first took place when she was 17.
He could not be charged with statutory rape because under Germany's statute of limitations rape cases must be brought before the alleged victim reaches the age of 28.
The daughter said Bergbauer, who is illiterate and works occasionally as a labourer, had raped her in his car, in the woods and in her own bedroom and forced her to have sex at knifepoint over the past three decades.
Of the three children fathered by him, two have died and one is severely handicapped, the court heard.
They were living in the family home along with the woman's mother and siblings in Willmersbach, near Nuremberg.
Authorities uncovered the case only after the daughter was convicted of blackmailing the wife of a doctor who she blamed for the disability of her son. She was assigned a parole officer who she told her story to.
The case had drawn comparisons to that of Joseph Fritzl, the Austrian man who imprisoned his daughter in a hidden cellar for more than two decades and fathered seven children with her.