German President Joachim Gauck steps down, says will not seek second term
German President Joachim Gauck has announced that he will step down and not seek a second term in office. His decision comes as a disappointment to many who had appealed the 76-year-old former East Germany pastor and civil rights activist to stay on.
The decision is likely to add to the problems of Chancellor Angela Merkel, who was bracing for the 2017 general elections, with opposition parties and her own revolting against her refugee policies. She now faces a challenge as the search for a successor to Gauck could involve a cross-party war.
Gauck became the 11th postwar president of Germany in 2012 and said it was a huge honour for him to serve his country. Following his decision, all political parties would now nominate their own presidential candidates and the one who gets the maximum votes from political parties and a congress consisting of sportspeople, celebrities and other public figures will be elected as president.
The names doing the rounds include finance minister Wolfgang Schäuble of Merkel's Christian Democrats party; foreign minister Frank-Walter Steinmeier of the Social Democrats party; Norbert Lammert, the speaker of Bundestag; and Gerda Hasselfeldt, the only female candidate from the Christian Social Union party.
The president cited his old age as the reason for stepping down and said, "This decision was not easy for me. I do not want to commit myself for a further period of five years when I cannot guarantee that I will have the adequate amount of energy and vitality that is required."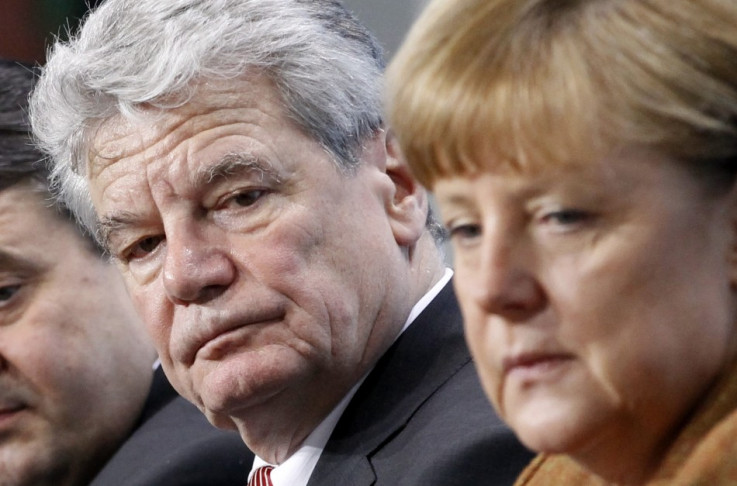 German Chancellor Angela Merkel faces a challenge as President Joachim Gauck announces retirement
Reuters
"How one considers one's own age is a very individual, very personal question. This is the way I have answered it for myself," Gauck was quoted as saying by The Guardian.
Gauck was a noted supporter of the civil rights movement and his popularity grew towards the end of the East German regime in 1989. Paying tributes to the outgoing president, justice minister Heiko Maas said that Gauck brought back dignity to the president's office with his high moral integrity, given the fact that his predecessor, Christian Wulff, had to resign after being accused of accepting favours from businessmen during his term as governor of the state of Lower Saxony.