Israeli President Reuven Rivlin and Germany's Joachim Gauck mark 50 years of diplomatic ties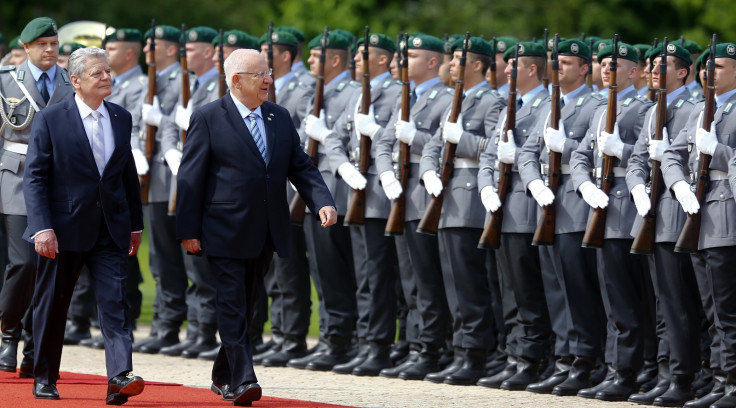 Israeli President Reuven Rivlin started a state visit to Germany by stressing the importance of Holocaust remembrance, continued close bilateral co-operation and presenting a common front against racism, extremism and anti-Semitism.
Rivlin was in Berlin on 11 May to mark the jubilee of diplomatic relations between the two countries.
The head of state made the comments as Israel announced that it had bought four German-made corvette warships to help secure its Mediterranean gas rigs, with Berlin heavily subsidising the deal.
The ships, worth €430m (£308m, $480m), will be built by Thyssen Krupp and delivered within five years, providing significantly more fire power to Israel's navy.
The German government will pay €115m towards the cost. As part of its atonement for the Nazi Holocaust, Germany is committed to Israel's security and has often helped pay in the past for the cost of military equipment such as submarines.
At an official state dinner, hosted by President of Germany, Joachim Gauck, at Berlin's Bellevue Palace, Rivlin: "The strong and deep friendship we celebrate this year, between Israel and Germany, was made possible by Germany taking responsibility for the crimes of the past."
Rivlin added: "The bridges built the two countries over the past half-century are not only dependent on the historical duty of the descendants of the killers and murders towards the descendants of the victims. These bridges rest upon the foundations of brave and deep national soul searching. Germany remains among the few countries in Europe to acknowledge, officially and nationally, its responsibility for the crimes it led against our people."
Gauck said: "Israelis and Germans are meeting one another, outside the framework of political life, with countless opportunities, including here in Berlin with artists and young students working to enrich this city, the city in which long prospered German-Jewish culture," adding that "it is good to hear Hebrew in the streets.
"I know that you in Israel are looking with great concern at the rise in anti-Jewish violence. Also in Germany, we heard in the last year evil, anti-Semitic chants, during demonstrations against Israel's policies and military actions in Gaza. The overwhelming majority of Germans were shocked and ashamed of this."
Gauck added: "Regardless of from where the evil of anti-Semitism arises - from the far Right or far Left, from veteran citizens or immigrants - it will not be tolerated in our country. We will not allow fanaticism to poison our political climate, or engulf us in fear."
© Copyright IBTimes 2023. All rights reserved.