German tabloid Bild has published a photo of Prince William and Kate Middleton, highlighting the exposed bottom of the Duchess of Cambridge.
The controversial photo was taken during the Duke and Duchess of Cambridge's royal tour of New Zealand and Australia in April.
The Bild picture is likely to spark a privacy row between the royal family and the European media, though Clarence House has not yet responded to the latest royal privacy breach.
In the picture, Kate is seen wearing a navy blue and white Ikat Batik print dress from one of her favourite labels, Diane von Furstenberg. The Duchess wore the knee-length wrap dress for visiting the Blue Mountains in Australia during the royal tour.
The revealing shot was taken when wind from the helicopter blew up Kate's dress as she arrived in the Blue Mountains area along with the Duke.
The tabloid published the photo in an online edition over the weekend alongside similar pictures of Kim Kardashian and her sister Khloe.
The feature states: "The photos show our favourite Duchess Kate (32) in the Australian Blue Mountains. The rotor blades of the helicopter royal swirl the air so that Kate's summer dress blew up – giving a clear view of the beautiful bum! We've never been so grateful to a helicopter."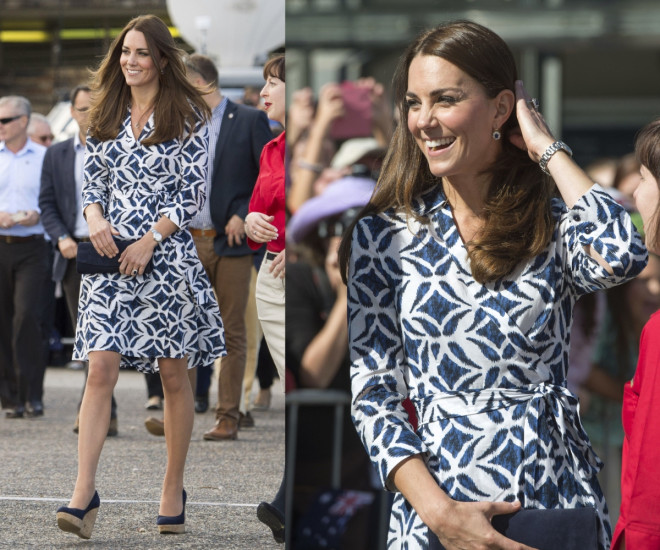 A similar photo of Kate, taken during her Canada royal tour in 2011, showing her skirt blown up by the wind, had gone viral in the media.
In 2012, William and Kate took legal action against French magazine Closer that published topless photos of Kate Middleton taken during the royal couple's holiday in Provence Chateaux.