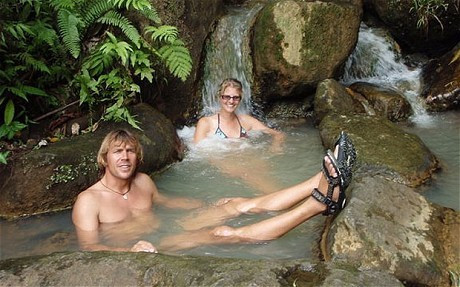 A missing German tourist is feared to have been by cannibals during a visit to a South Sea island.
Stefan Ramin, 40, from Hamburg, disappeared last month after making his way to the remote tropical island of Nuku Hiva in French Polynesia.
After a week of searches, charred human remains believed to be those of Ramin's were discovered near a campsite on the island, raising fears that he may have been eaten by cannibals.
Among the embers were bones including a jaw bone, teeth and melted metal, believed to be fillings. Investigators believe a "human body was hacked to pieces and burned."
Ramin visited the island as part of a round the world sailing expedition with his 37-year-old girlfriend Heike Dorsch.
Police are now looking for Henri Haiti, a local guide who took Ramin on a goat hunting trip in the mountains of Nuku Hiva and is believed to be the last person to see him alive.
After setting off on the hunt, Haiti returned on his on to tell Dorsch that here had been an accident and that Ramin had been injured, before allegedly tying her to a tree and assaulting her. She managed to escape and raise the alarm.
An investigator on the case told reporters: "She told investigators that Haiti was trying to lure her into a trap, that it was absolutely necessary she follow him into the forest to help her companion, wounded a few kilometres away."
The tribe suspected of killing and eating Ramin claimed that they gave up cannibalism years ago.
Forensics experts say it could take several weeks to determine whether the remains found on the island belong to Ramin.