Germany has granted asylum to four Turkish soldiers, one of whom is accused of being a leading figure in the failed July 2016 military coup, Der Spiegel has reported.
It is now impossible for the four to be extradited to face charges in Turkey, which is likely to infuriate a Turkish government desperate to punish those they consider traitors and terrorists.
The coup, in which 250 people died, attempted to overthrow President Recep Tayyip Erdogan.
Ilham P - a former Turkish colonel who cannot be fully named due to German privacy rules - is the most senior member of the group. He was the head of the Ankara military academy at the time of the coup, and is accused by Turkey of being the ringleader of the group.
European nations say that Erdogan's post-coup crackdown is the most obvious sign yet that Turkey is slipping into authoritarianism. Authorities have jailed more than 50,000 people and sacked or suspended more than 150,000 accused of being involved in the coup.
Turkish leaders accuse Fethullah Gulen, a Muslim cleric living in self-imposed exile in the US, of being behind the plot.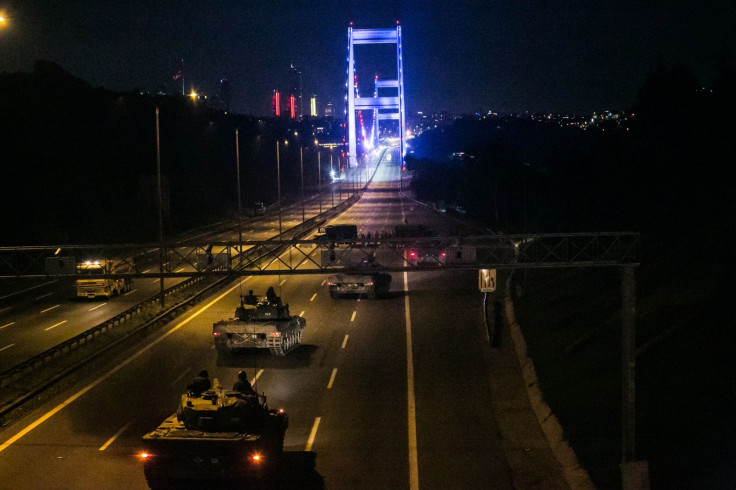 This marks the latest setback in German-Turkish relations in recent years.
Following disagreement over the arrest of several dual German-Turkish citizens on terror charges related to the failed coup, Erdogan urged the approximately four million Germans of Turkish descent to vote against Angela Merkel's ruling coalition in the 2017 German elections.
Another row erupted over Turkey's use of German-made Leopard tanks in Operation Olive Branch - the Turkish incursion into Syria to crush the Kurdish-held pocket in the Afrin region.
Following public outcry over the offensive and amid delicate negotiations to form a new government, the German authorities suspended planned upgrades to the Turkish tanks.
The Turkish government has taken a zero-tolerance approach to domestic dissent regarding the offensive, arresting over 300 people accused of "spreading terrorist propaganda" by criticising the operation on social media.
Erdogan has branded critics of the operation "servants of imperialism".