As an attempted military coup unfolded in Turkey Friday night, hundreds of Turkish citizens took to the streets to record and share the chaos on the ground in real time on Facebook Live and Twitter's Periscope, despite military attempts to block social media networks in the country.
According to Turkey Blocks, a group that monitors internet censorship in Turkey, Facebook, Twitter and YouTube were reportedly blocked in the country described as a "bastion of internet censorship" by the Electronic Frontier Foundation. "Our data indicated a 2 hour period of social media throttling but no evidence of a full internet blackout in #Turkey," the group tweeted.
Ironically, President Recep Tayyip Erdogran — a long-time opponent of social media — used Apple's video streaming service FaceTime to make a statement to the country, urging its citizens to hit the streets to voice their opposition to the group. Taking to Twitter as well, he tweeted: "I call our nation to the airports and the squares to take ownership of our democracy and our national will."
During the first few hours of the uprising, many users reportedly found it difficult to access social media. While Twitter said they suspected "an intentional slowing" of their traffic in the country, a YouTube spokesperson told the Guardian that they are "aware of reports that YouTube is down in Turkey, however, systems seem to be functioning normally."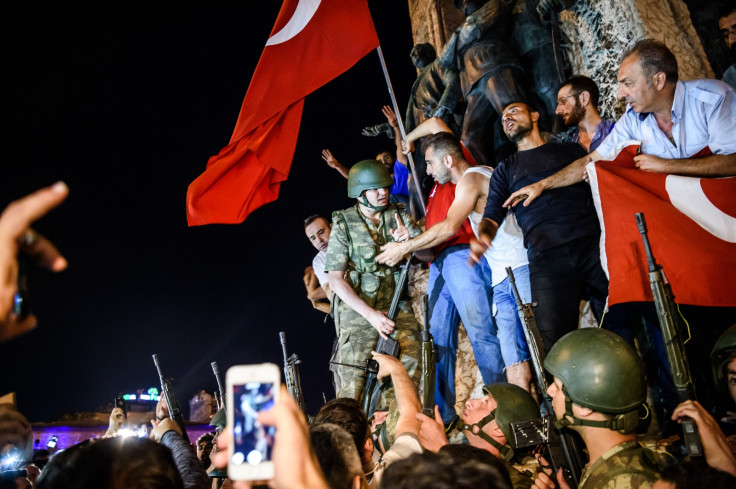 Hundreds of Facebook Live and Periscope live streams from across the country, particularly in Istanbul, Izmir and Ankara, showed large groups gathering and chanting in the streets amid tanks rolling within the cities, jets flying overhead and reported sounds of gunfire.
One group in Sivas, Turkey, reportedly chanted in the streets saying, "Stand tall where you are, the people are with you."
CNN Türk's studio was also briefly taken over after Turkish soldiers forced anchors and workers off the air and outside the building.
However, the station continued to live stream updates via Facebook Live and post updates on Twitter. Other local publications were also ordered by military to stop their operations as well.
Residents in the Middle East are no strangers to using social media to broadcast local unrest and political turmoil. In 2011, the Arab Spring was a watershed event for social media due to its use, importance and impact in documenting the revolutions as they unravelled.
In 2015, Facebook Live and Periscope were both introduced as a new means to communicate and connect with people around the world.
Since then, their use have ranged from movie promotions and exploding watermelons to broadcasting sit-in protests over gun control, the shooting of Philando Castile and the police shootings in Dallas.
Facebook recently clarified its policies on sensitive material permitted on the platform saying context and degree are key in such situations.
"Just as it gives us a window into the best moments in people's lives, it can also let us bear witness to the worst," Facebook said in a brief policy statement last week. "Live video can be a powerful tool in a crisis — to document events or ask for help."