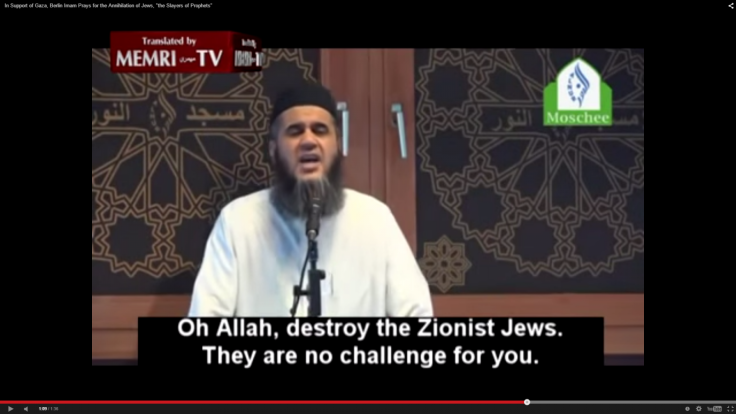 A Danish Imam faces criminal charges in Germany after calling for the deaths of "Zionist Jews" when leading a prayer session in a Berlin mosque.
German authorities announced that they would press charges against Abu Bilal Ismail, who has also preached at Denmark's controversial Grimhøj Mosque in Aarhus, for incitement to hatred.
Speaking to worshippers at Berlin's Al Nusra mosque on 18 July, 2014, Ismail was caught on tape calling for Jews to be killed.
"Oh Allah, destroy the Zionist Jews. They are no challenge for you. Count them and kill them to the very last one. Don't spare a single one of them. Oh Lord, bring torment upon them," Ismail said in the recording, reported The Local.
Danish police launched their own investigation into the remarks, but decided not to press charges after German authorities announced they were to take action.
Ismail is a regular speaker at the Grimhøj Mosque, where a mosque leader declared support for Islamic State in an interview last year, and where 22 of the approximately 100 Danes believed to have travelled to Syria and Iraq to fight for the extremist organisation are believed to have worshipped, according to police.
Ismail claims that he was not calling for the deaths of all Jews in the speech.
"I prayed for God to destroy those Jews who kill us. It's not all Jews, because I know Jews who are good toward us," he said in an interview with Danish TV.
After a documentary was aired in which leaders at the Grimhøj Mosque were filmed declaring their opposition to democracy and praising a Dane who died in an Isis suicide bombing attack, death threats were received at the mosque.
Police subsequently praised the mosque for actively helping to dissuade Danish Muslims from travelling to fight in Syria and Iraq.
Earlier in February 2015, a freedom of speech event and a synagogue were targeted in terror attacks by a Muslim radical in Danish capital Copenhagen, with a Jewish community security guard among two killed.