Germany: 'Shariah Police' who patrolled streets of Wuppertal face no charges from court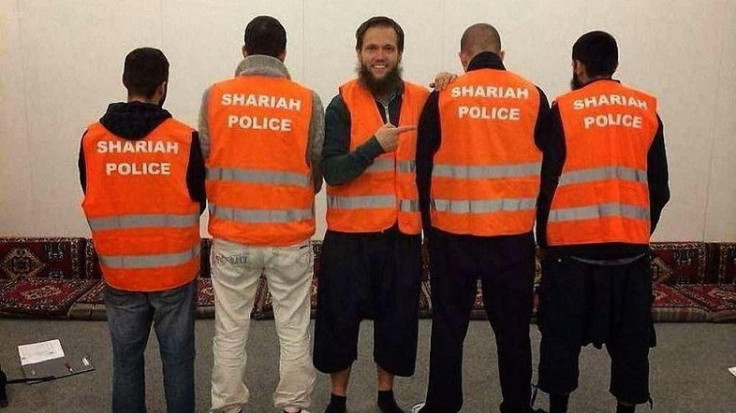 Nine men who preached radical Islamic views on the streets of Wuppertal in Germany, whilst wearing high-visibility jackets emblazoned with the words "sharia police" will not face charges . A court in the city, in Western Germany, ruled on 10 December that the men's bright orange jackets did not amount to a breach of laws on wearing uniforms in the country.
In the summer of 2014 the men patrolled streets demanding that revellers in nightclubs and bars stop drinking alcohol, gambling and even listening to music. One member of the group, Sven Lau, a German-born follower of the ultra-conservative Salafist form of Islam, was declared leader of the group.
Lau could still potentially face a prosecution for organising a public meeting without notifying the relevant authorities. The court heard how the men declared Wuppertal's main city station and other areas nearby as a "Shariah Controlled Zone" ordering the locals to abide by their rules.
They posted on their Facebook page during the patrols: "What have all the grumblers now coming out of the woodwork done for wayward youth? Do you realise how many are buying and consuming drugs? If you are so honest and good, where is your shrieking and outrage."
Lau, an infamous preacher in Germany that has spent time in prison, was photographed in Syria posing with a tank and a Kalashnikov rifle around his neck last year - and subsequently had his passport confiscated.
He claimed that he was on a humanitarian mission in the war-torn nation when the photo was taken. Other allegations against him include that he has attempted to recruit young Muslims to fight with jihadists in Syria or Iraq.
Sharia law is the Arabic term for a legal system that is based on the Koran. A number of countries, including Saudi Arabia and Iran, have versions of Sharia law.
The case of the Shariah Police sparked outrage in Germany with Chancellor Angela Merkel and a number of ministers speaking out against the practice.
Mayor of Wuppertal, Peter Jung, was quoted by Deutsche Welle as saying: "These people's intention is to provoke and intimidated and force their ideology.... [Wuppertal is an] open and tolerant city, which is proud of the fact that people of different religions and convictions live together in peace."
An appeal has been lodged by prosecutors after the courts decision.
© Copyright IBTimes 2023. All rights reserved.