The annual Rose Monday parade, featuring satirical floats poking fun at world leaders, is usually the highlight of Germany's carnival season, but stormy weather forced many cities to cancel the festivities.
Duesseldorf, Mainz, Muenster, Duisburg and Essen called off their processions because of a storm that was predicted to hit western Germany, with winds gusting up to 100 kilometres per hour.
Although rain stopped play, photographers managed to capture photos of the floats, many of which referred to Germany's handling of the refugee crisis.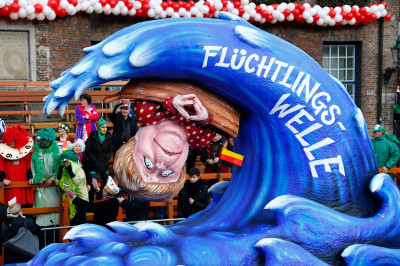 Cologne went ahead with its parade but has banned horses, large puppets and flags from the event for safety reasons. Aside from the weather, authorities in Cologne placed a particular focus on security this year, to prevent a repeat of the string of robberies and sexual assaults that occurred in the city at New Year.
More than one million people are expected to attend events in Cologne for carnival week, which began with Women's Day on Thursday 7 February.
Rose Monday celebrations in Mainz and Duesseldorf will be postponed to a later date.