Police in Bavaria have launched an investigation after a mock Nazi tank marked with the words 'asylum defence' appeared at a carnival parade. The 'tank' – which was in reality a car covered with a carboard structure – was used in the annual carnival parade in the town of Steinkirchen bei Pfaffenhofen.
As well as the anti-immigrant slogan, it was inscribed with the Balkenkreuz symbol, which was widely used on Nazi armoured vehicles during the Second World War. While it is illegal to display the swastika in Germany, the law does not apply to the Balkenkreuz.
Carnival organisers were criticised when pictures of the tank float appeared online, with local councillor Florian Simbeck writing on Facebook it showed the "stupidity, baseness and inhuman attitude of some parties". In a statement carnival organisers said that they did not have far-right beliefs, and in fact some of the organisers were themselves refugees, Spiegel Online reported.
Police said that they did not halt the progress of the tank float, and though they were concerned that it may break laws prohibiting incitement to religious hatred, they did not want to prohibit freedom of speech.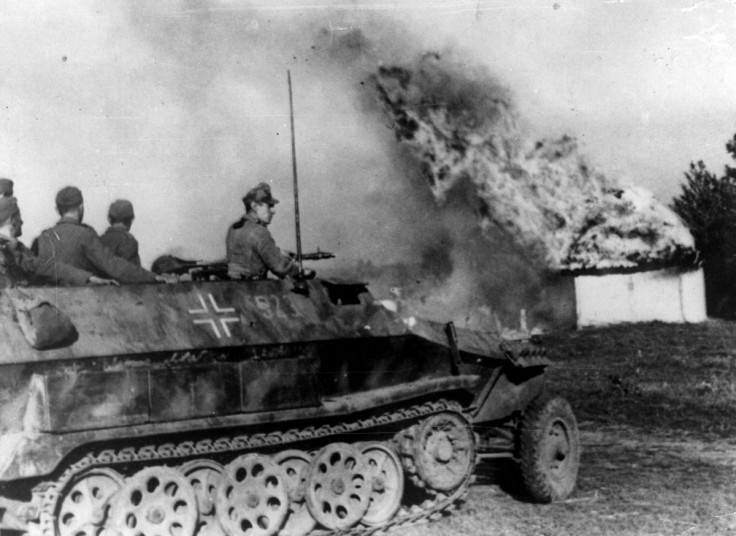 The Balkenkreuz or 'bar cross' was the symbol of the Wehrmacht, or Nazi military forces, during the Second World War. The Iron Cross symbol currently used by the Bundeswehr, or German armed forces, was used by the German military before the Second World War.
The incident comes amid increasing criticism of German Chancellor Angela Merkel's immigration policies, with the chief of the anti-immigration party AfD recently calling for refugees entering the country to be shot. More than one million refugees and migrants entered Germany in 2015.
Police said that photographs of the tank have been passed to state prosecutors, who will decide whether criminal charges should be brought.