Thousands of cloaked, masked and robed revellers gathered in Venice's Saint Mark's Square for the start of the Italian city's annual carnival.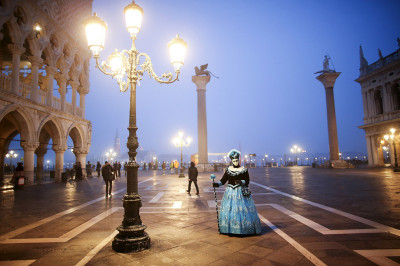 Security was tight around the square, which was cloaked in thick fog. Police officers searched bags and even asked some revellers to remove their masks at checkpoints. Authorities have increased surveillance throughout the city following the terror attacks in Paris and sexual assaults on New Year's Eve in Cologne, Germany. A security plan has been put into action during the carnival, which includes deploying extra police, including plainclothes officers. However, authorities rejected a proposal to ban revellers from wearing masks.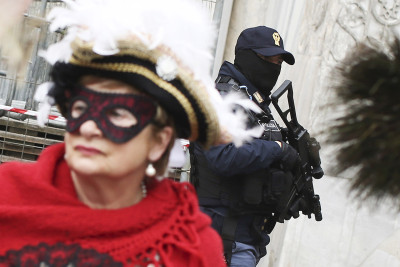 The Carnevale di Venezia is one of the oldest carnivals in the world. Carnival madness first began in the 11th century as a period of excess before the rigours of Lent, the 40 days of fasting that precede Easter in Christianity. Venetians could then hide their identities behind masks and do as they pleased. It was seen as a pressure valve to ease class tensions, allowing the poor, for a brief and controlled moment, to break Venice's rigid, oligarchical social order. In the 18th century, masks were used by noblemen in order to protect their anonymity when voting on council matters.
The event fell into decline during the 18th century, but was revived in 1979 with great success. Nowadays it is considered a good excuse to don a mask and costume, parade around the city and enjoy the live music in the main squares of the city. During the contemporary carnival, masked balls are held in ancient Venetian palaces, while concerts and gondola parades are organised in the piazzas and along the canals. During the 17 days of carnival, the lagoon city fills with thousands of tourists from across Italy and the world.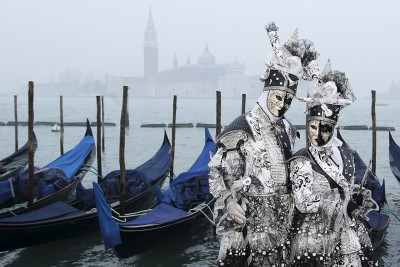 At noon on Sunday 31 January 2016, Saint Mark's Square was packed, with crowds waiting for the traditional Flight of the Angel. This annual spectacle involves a beauty-pageant winner dressed in a carnival costume descending from the bell tower of Saint Mark's Basilica. This year's angel, student Irene Rizzi, flew over the crowd, starting from St Mark's bell tower and gradually descending to the square. The ceremony used to be called the flight of the Turk, and dates back five centuries when a young Turkish acrobat walked a tightrope stretched from a ship anchored at the pier of St Mark's Square all the way to the top of the St Mark's bell tower.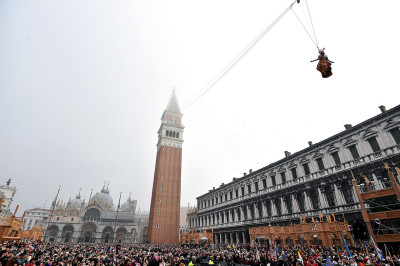 The theme for 2016 is 'Creatum', and celebrates Venetians' arts and traditions. This year's carnival runs until 9 February.