Germany is celebrating its traditional Women's Carnival "Weiberfastnacht" where the people of Cologne and surrounding areas dress up, drink local 'Kölsch' beer, dance and attend street parties.
However, a shadow looms over this year's festivities, after the series of sex attacks which occurred on New Year's Eve, where hundreds of women were groped, sexually assaulted and robbed outside the central train station, mainly by men of North African and Arab appearance, according to reports.
Cologne has done its utmost to make sure that the festival continues as normal, without security worries. It has do so by putting more police on duty, lighting dark alleyways and installing security cameras to make people feel safe.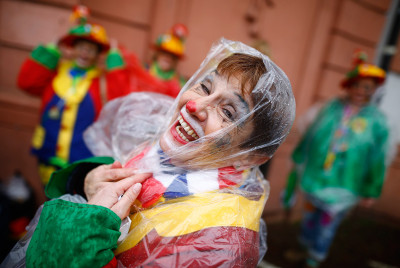 Cologne has now set up a special security point for females in the city centre where women and girls can find a safe haven in the crowded space. The president of the festival committee of the Cologne carnival, Markus Ritterbach said that "we have a security point set up by the city which is a safe haven for women who feel sexually assaulted and where they can find help."
Monika Kleine of the Catholic Women's Social Service Cologne said that the security point in the construction trailer is the first contact point for women - if anything should happen to them, allowing them to find some peace and quiet, away from the mania of the carnival, before seeing a counsellor if they wish.