Cologne reporter Esmeralda Labye groped live on air — by Germans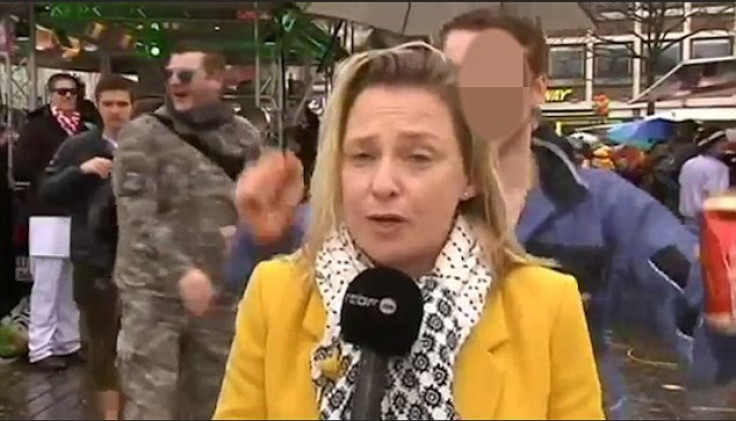 Just weeks after hundreds of women were harassed and assaulted on the streets of Cologne, Germany, a female broadcast journalist in the city was groped live on air. But unlike the last attacks, this time Germans were apparently responsible.
"I'd like to emphasise, and this seems important me, that the incident has been caused by young men speaking German," said Belgian reporter Esmeralda Labye, who was covering the Women's Carnival in Cologne for RTBF when she was assaulted by the men. Most of the attackers New Year's Eve were reportedly recent immigrants and asylum seekers, news that triggered a major backlash against Germany's welcome to refugees.
Labye wrote an article posted on the RTBF web site condemning the "wretched and cowardly men" who assaulted her and complained that it is increasingly difficult for female journalists to report the news without being harassed
She said the problem stared as soon as she started the broadcast and "two or three man gathered behind me and tried to make themselves the center of attention. I didn't see them as I was focusing on the broadcast. Then I felt a kiss on my neck ... almost immediately after that I heard someone saying, 'Do you want to sleep with me?'' and some hands on my shoulders. I noticed the person behind me was making an obscene gesture."
Labye told CNN: "As I was waiting to wrap up my live report, one of the three men touched my breast. At that moment, I lost my temper. I turned and told them in English: 'I won't allow this to happen twice! Don't touch me. Don't touch me.'"
Three men standing around her left, she said. Police are now searching for suspects, at least one of whom can be clearly seen on camera.
The street festival includes hundreds of thousands of revelers, many of them drunk. The number of police had been increased for the event in the wake of the earlier attacks. In addition, extra security cameras were installed, and police and city officials passed out thousands of leaflets in several languages warning revelers not to assault women.
"During carnival, we must treat each other with respect and observe the law," the leaflets read. "Important — Please note: 'bützen' means kissing somebody on the cheek, one of our carnival customs. Sexual overtures are strictly prohibited. Women and men must always consent to the 'bützen'. No means no!
RTBF is an affiliate of CNN. Managers decided not to re-broadcast the video of the incident but have released two still images to aid in the investigations, and the station filed a criminal complaint with Cologne police.
"We are not going to broadcast the footage of what happened because it is degrading to the journalist in question," RTBF said in a statement. "It was two or three men who were making obscene gestures behind the journalist, and one of them then did something completely inappropriate. "The station expresses respect and support for its colleague journalist and disgust and condemnation for the attackers."
© Copyright IBTimes 2023. All rights reserved.