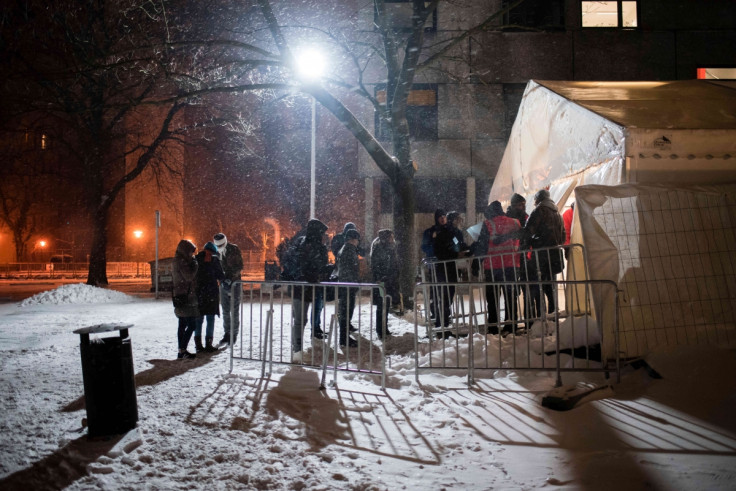 Update (28/1/2016): This story has been updated. Please click here.
A refugee who managed to flee Syria and make his way to Germany has reportedly died after queuing for days outside a government aid tent in sub-zero temperatures. Volunteers in Berlin say the 24-year-old man suffered a heart attack and passed away after being rushed to hospital.
The Syrian, who had been in Germany for the past three weeks, had reportedly been waiting outside the State Office of Health and Social Affairs (LAGeSo) in Berlin. He was said to have contracted flu-type symptoms after waiting in the cold for days to see an official. Moabit Hilft, a non-profit organisation that helps migrants and refugees, announced news of the man's death on social media.
One of the group's volunteers, Reyna Bruns, wrote on Facebook on Wednesday morning (27 January): "Now it's happened. A 24-year-old Syrian who waited in sub-zero temperatures – DEAD after fever, shivering, and cardiac arrest in the ambulance. Who accepts responsibility here? We have all seen it coming. And not since two days ago. Since half a year. Now it's too late. He's dead."
The police and local authorities have not yet confirmed the man's death, Spiegel reported, but are looking into the incident. Police say they would only be informed of a death by a hospital if they died of "non-natural causes".
Bruns included in her Facebook post a transcript of a conversation she said took place with another volunteer, who sat with the 24-year-old as he was taken to hospital. They called the ambulance after seeing the man had a fever but say he died after going into cardiac arrest.
Another volunteer, Diana Henniges, told Spiegel the death was a "direct consequence of the waiting situation at the LAGeSo", adding: "He was exhausted from waiting in the cold, and had the flu. By the end he had to stand in line at the LAGeSo even when he had a fever." She added the Syrian refugee had nothing to eat because he had no money.
Queues of refugees, including toddlers, line up outside LAGeSo in Berlin every day waiting to get an appointment with officials. The organisation is responsible for helping refugees process asylum requests and hand out benefits to buy food and clothes.
Henniges told RBB online recent weeks had seen up to 600 people wait in the cold outside LAGeSo every day, with its heated tents only able to hold 200 people.