Germany's Chancellor Angela Merkel announces intention to stand for fourth term
Merkel tipped to win a fourth term despite falling popularity linked to migrant policy.
German Chancellor Angela Merkel will seek re-election for a fourth term when the country goes to the polls in 2017, despite dwindling popularity and the rise of populist groups across Europe and the West.
Merkel is reported to have made the announcement to colleagues in her Christian Democratic Union (CDU) party, ending speculation about whether she might stand aside.
Merkel remains popular in Germany, where she has presided over the strongest economy in the European Union since 2005. This despite a number of crises in recent years including the UK vote to leave the EU, unease at an open doors policy which has seen 1.2 million migrants enter Germany, and a number of terror attacks, several of them perpetrated by migrants.
Despite these problems, Merkel is perceived as a stable influence within an increasingly nervous Europe, rocked by Islamist terror attacks, Brexit, the election of Donald Trump, tensions with Russia, and the rise of far-right parties like the French National Front.
Merkel discussed some of these issues, as well as the Syria conflict, in Berlin meetings with outgoing President Obama last week (17 November).
A recent poll suggested 59% of Germans would still vote for Merkel in the next election and the CDU is adopting a tougher stance on migration in an attempt to counter the growing popularity of the anti-Islam Alternative fur Deutschland (Afd) party.
In a leaked CDU manifesto this weekend (20 November) titled Orientation in Difficult Times – For A Successful Europe, a number of proposals are set out which appear to recognise the concerns of many Germans. According to The Telegraph, these include a ban on teen marriage, the withdrawal of benefits for migrants who do not integrate, and a ban on the full-face veils in court hearings.
If successful in 2017 Merkel, 62, would equal the 16-year leadership of Helmut Kohl, who was Germany's Chancellor between 1982-1998. Kohl was in charge during the reunification of the country following the collapse of the Berlin Wall.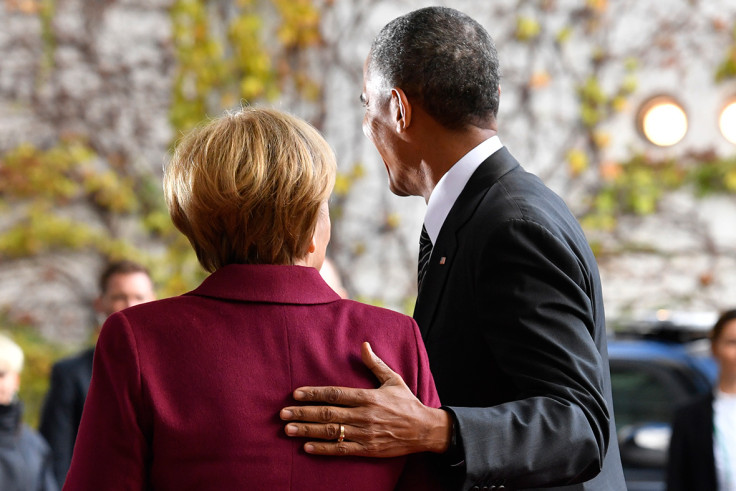 © Copyright IBTimes 2023. All rights reserved.