Tram driver suspended for apparently sleeping on same line as fatal Croydon crash
Transport firm First Group say the driver has been removed from duty pending an investigation
A tram driver who appeared to fall asleep near the fatal bend in Croydon where seven passengers lost their lives has been suspended. Transport firm First Group suspended the driver after footage of the incident was passed to The Sun earlier this week.
The clip suggests that the driver fell asleep at the controls on the same line where the crash happened on 9 November. The newspaper said that the film was recorded in April roughly three miles from the spot of the fatality.
First Group said the driver was removed from duty pending an investigation into his conduct. The Sun said that the driver was travelling at around 40mph and carrying roughly 50 people.
The report suggest that he fell asleep two stops and three miles from the bend where the fatal derailing took place in New Addington, south London.
The passenger who took the footage told The Sun: "I was incredulous when I saw him. I did a few double takes. It was the most surreal thing because the tram is zooming along and the driver seems to be falling asleep."
The report suggests that the driver was caught sleeping between Coombe Lane and Gravel Hill over a distance of about half a mile just after 6pm on 21 April. The tram had already passed through the Sandilands turn where the tram derailed in torrential rain.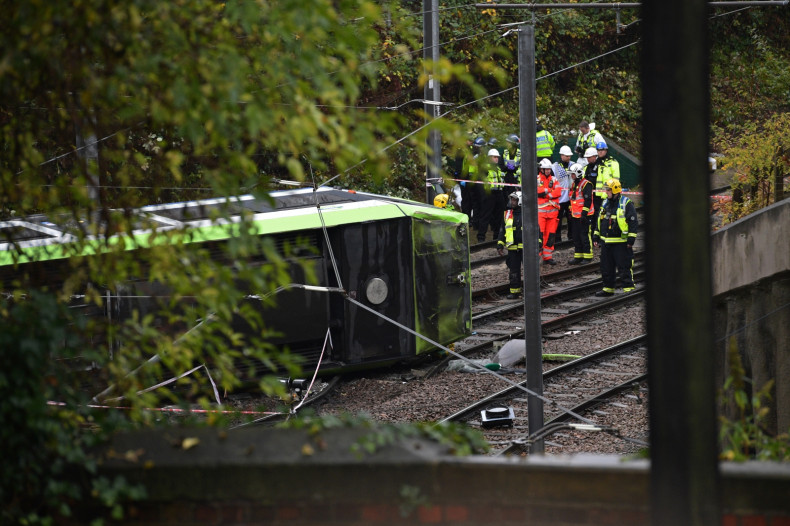 The tram which crashed was doing roughly the same speed in a 12mph zone as it approached a bend according to a preliminary report by the Rail Accident Investigation Branch (RAIB) on 16 November.
The driver has been named as 42-year-old Alfred Dorris, who was arrested on suspicion of manslaughter and has been bailed until May 2017. Some reports suggest he may have blacked our or had been texting at the time of the crash.
London Mayor Sadiq Khan said of the clip: "I am extremely concerned by this video. People will understandably be very worried. It is important that First Group, who operate the trams, and TfL urgently and fully investigate this. I will make sure any necessary action is taken, and that all steps are taken to make sure these trams are as safe as possible."