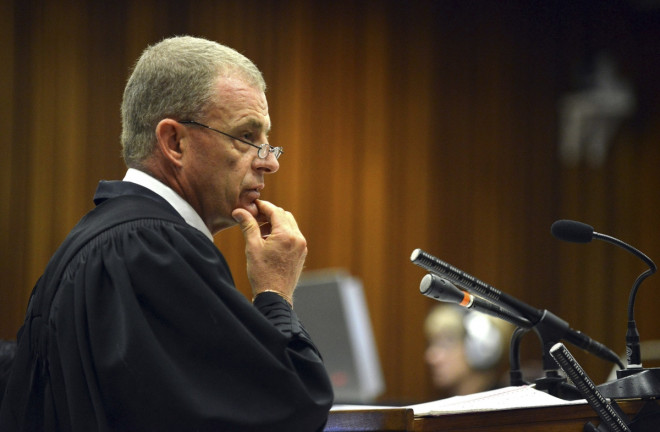 'Bull terrier' prosecutor Gerrie Nel sank his teeth into Oscar Pistorius as he accused the fallen star of "changing your version as you go", during cross-examination about the night Reeva Steenkamp was killed.
Any vague hopes Pistorius may have entertained of being treated with kids' gloves after his previous mauling by the prosecutor with the fearsome reputation promptly vanished as Nel went straight on the attack.
The start of Pistorius's second week of evidence saw Nel again seek to destroy his testimony and undermine his credibility in order to secure a guilty verdict.
Defence barrister Barry Roux even stepped in during proceedings in which Pistorius broke down three times.
Roux made his objections to Judge Thokozile Masipa about the prosecutor's inquisitorial style after Pistorius's second breakdown, as Nel lived up to his image on social media as a 'bloodhound' interrogator.
It happened straight after Pistorius told the court he had shouted out on the morning of the fatal shooting: "Get the f*** out of my house!" The disabled runner had been making his way down the passage from his bedroom towards the bathroom where he had heard, what he suspected, was the sound of an intruder on Valentine's Day.
The 27-year-old then broke down immediately, triggering an adjournment. When proceedings resumed, Nel fired back: "it's not my fault he's getting emotional," as Judge Masipa rejected Roux's intervention.
Later on, when Pistorius became emotional for a third time, Nel was once again unsympathetic when he warned sobbing will not help, by telling him: "You're getting emotional, it's not worth your while."
He told Pistorius his testimony was "devastating" for his own defence, after the runner repeatedly replied "I don't know" to the prosecutor's questions.
"You got emotional because you got your defences mixed up, nothing else," said Nel. "That's why you cried because you don't understand the implications." Pistorius denied it.
Beginning a second week of testimony at North Gauteng High Court, the 27-year-old was reduced to tears three times as Nel zeroed in on the runner's claim he did not mean to kill anyone when he shot four bullets through his bathroom door.
"I fired my firearm out of fear. [...]I didn't fire at anyone. I didn't have time to think," Pistorius said. Nel replied: "You know exactly: you fired at Reeva." Pistorius collapsed in sobs as he denied doing so."
Pistorius also said his neighbours, the Stipps, were lying in their testimony when they said they saw lights on at Pistorius's home, immediately after the gunshots rang out.
Pistorius denies pre-meditated murder and claims he mistook Steenkamp for an intruder inside his luxury home on the outskirts of Pretoria. The prosecution alleges he killed her following an argument between the couple.
Pistorius also faces charges of illegally firing a gun in public and of illegally possessing ammunition, both of which he denies.
There are no juries at trials in South Africa, and his fate will ultimately be decided by the judge, assisted by two assessors.
The trial continues.