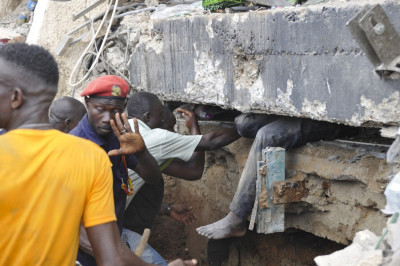 At least five people have been killed in the sudden collapse of a multi-storey shopping centre in Ghana's capital Accra.
Sixty-eight people were pulled out by rescuers who rushed to the scene, but several other people are reportedly still under the broken concrete blocks.
The BBC's correspondent Sammy Darko said the hands of three people can be seen poking out of the pile of rubble and two pregnant women are believed to be among those still missing.
An 18-man team of Israeli rescuers has been called to Accra to help with the operations, following an offer of assistance from the government in Tel Aviv.
Ghanaian President John Dramani Mahama declared the area a disaster zone and ordered an investigation into the collapse.
"We have received offers of assistance from one or two friendly governments that have specialised crew that are able to deal with this, some [have] dealt with some earthquake situations, and so I have accepted that offer of assistance," Mahama said after visiting the site.
"Whoever is responsible for this negligence here will pay a price."
Ghana's National Disaster Management Organization said the building collapsed due to basic structural weakness.
"The foundation was not good enough," spokeswoman Kate Adobaya said.
Retail company Melcom Ltd was leasing the building in the suburb of Achimota. Melcom's store opened six months ago and the company had a 10-year rental contract in place.
"This is indeed a very tragic incident," Melcom said in a statement posted on Facebook, "we are doing everything possible to see that help reaches those who need it. Our heartfelt condolences and deepest sympathies goes to the families of those who may have lost their lives".