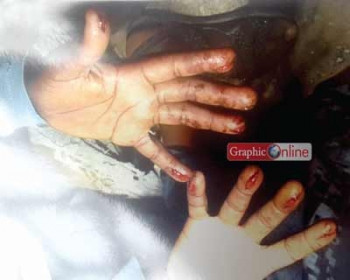 A mother and father in Ghana cut off their son's fingertips as a punishment for stealing coins and meat from a portion of soup.
Morrison Adenkor and Angelina Adet were handed the maximum 10 year prison sentence for slicing his fingers in an attack that left his fingers dripping in blood.
They were found guilty at a circuit court for causing harm and abetment of crime, local reports said.
Prosecuting, Assistant Superintendent of Police Sarah Acquah had told the court that the complainant was a journalist with TV3 Network in Accra and the couple reside at MacCathy Hills in Accra with their children including the victim.
ASP Acquah said on January 4 at about 0600 hours, Adeti confronted and accused the victim of stealing pieces of meat and some coins and that if he failed to tell the truth he would teach the victim a lesson.
Prosecution said the victim denied the offence, but Adeti cut the tips of all the victim's fingers with a blade.
Sentencing, Ms Ellen Vivian Amoah warned the court would not "sit aloof while the rights of children were trampled upon."
She added: "What type of parents do this kind of thing to their child of 10 years who is supposed to look up to them?
"Secondly, what has become the norm in our society where adults and society in general cherishes children? What could enter the mind of a father to cut open all the 10 fingers of his son with the tacit consent of the mother?
"We have to bear in mind that we owe rights and obligations to the most vulnerable members of our society, that is the children."