Ghazala Khan is no longer staying silent. The mother of slain US Army Captain Humayun Khan wrote a poignant rebuke to Republican nominee Donald Trump in an op-ed for the Washington Post on 31 July after the real estate mogul implied she was not allowed to speak at the Democratic National Convention (DNC) because of her religion.
The opinion piece was published days after her husband, lawyer Khizr Khan, delivered a critical speech on Trump's proposed anti-Muslim policies and his lack of sacrifice during the DNC in Philadelphia. In response, Trump went on the offensive and attacked the Khans and their beliefs.
In an interview with ABC News' George Stephanopoulos, Trump said: "I've created thousands and thousands of jobs, tens of thousands of jobs, built great structures. I've had tremendous success. I think I've done a lot. ...I think I've made a lot of sacrifices. I work very, very hard."
Trump then claimed Ghazala Khan had not spoken because she was not allowed to speak, implying her religion was to blame. "If you look at his wife, she was standing there," he said. "She had nothing to say. She probably, maybe she wasn't allowed to have anything to say. You tell me."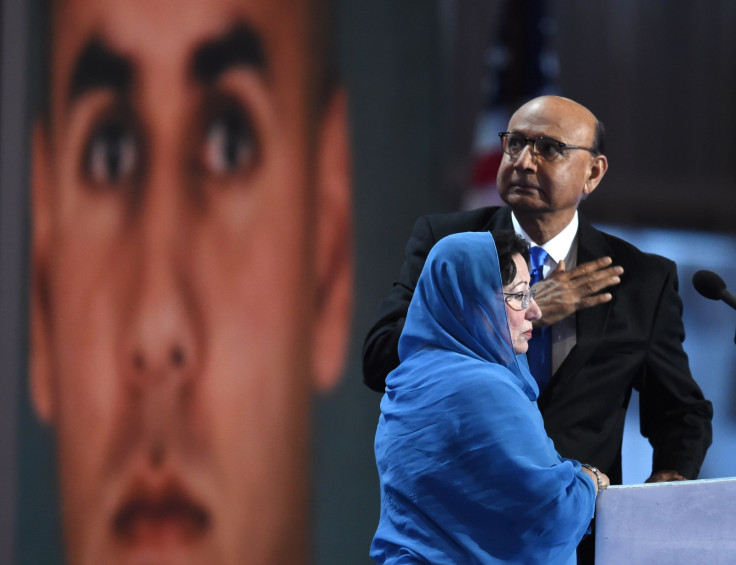 But Khan had plenty to say and she laid everything out for Trump to read. "Donald Trump said I had nothing to say. I do," she wrote. Khan, like her husband before her, opened up about the painful loss of her son in 2004 to suicide bombers in Iraq.
"Humayun is my middle son, and the others are doing so well, but every day I feel the pain of his loss," she wrote. "It has been 12 years, but you know hearts of pain can never heal as long as we live. Just talking about it is hard for me all the time. Every day, whenever I pray, I have to pray for him and I cry. The place that emptied will always be empty."
Khan explained that seeing photos of her son is too hard for her to bear. "Walking onto the convention stage, with a huge picture of my son behind me, I could hardly control myself. What mother could?" she said.
In just one paragraph, the mother of the US soldier stuck down Trump's claim that she was perhaps not allowed to speak. "Donald Trump said that maybe I wasn't allowed to say anything. That is not true. My husband asked me if I wanted to speak, but I told him I could not," she wrote. Khan also questioned Trump's understanding of Islam.
"When Donald Trump is talking about Islam, he is ignorant. If he studied the real Islam and Koran, all the ideas he gets from terrorist would change, because terrorism is a different religion," she continued, before delivering a final blow. "Donald Trump said he has made a lot of sacrifices. He doesn't know what the word sacrifice means."