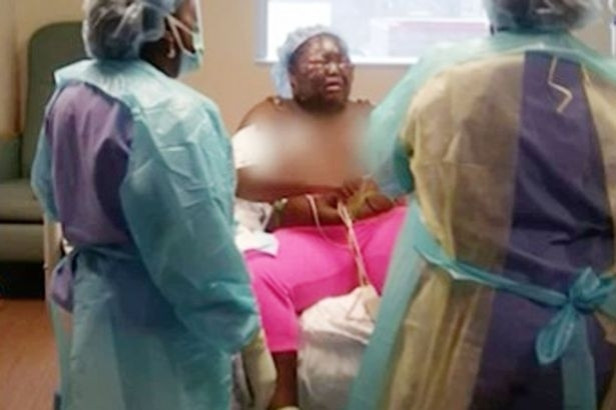 A 12-year-old New York girl was arrested after she allegedly poured boiling hot water on her friend's face as a prank during a sleepover.
Jamoneisha Merritt, 11, was startled awake when her 12-year-old friend allegedly poured boiling water over her face, police told The Associated press. She was taken to New York City's Harlem Hospital in serious condition after suffering second-degree burns to her face, shoulders, neck and chest, the Huffington Post reported.
The 12-year-old girl charged with assault has not been identified.
"Her and her friend got into an argument and she told her if she to sleep they were going to do something to her," Yolanda Richardson, the victim's cousin, told CBS2.
According to NBC News 4, Jamoneisha's family said they have not shown her the severity of her injuries but that she's in good spirits. "She's just a bundle of joy, you can't be around her and be sad," said her other cousin, Starshanae Nixon.
Despite her good spirits, the girl is also in a lot of physical and emotional pain, her family said.
Jamoneisha's mother, Ebony Merrit, allegedly appeared at the 12-year-old girl's apartment yelling threats. "I'm going to cut your face, you f**king b***h!" she screamed at the girl's mother. "I'm going to burn your f**king house down! You let this happen to my daughter!"
The girl accused of throwing the boiling water on Jamoneisha is also having a tough time, her mother told the New York Daily News.
"My daughter tried to stab herself with a knife," said mother Shernett Panton. "It was a prank—not a good prank. But after she saw what she did to (Jamoneisha) was really wrong, she tried to kill herself."