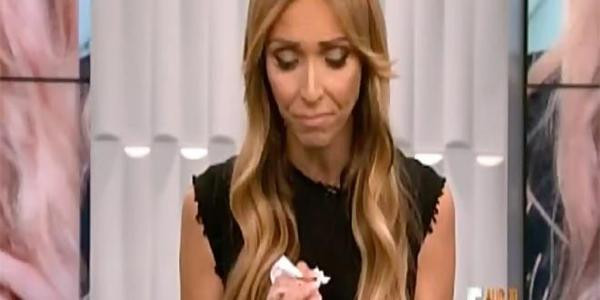 It was an incredibly emotional day for TV presenter Giuliana Rancic who bid farewell to E! News after 14 years on 10 August. In her goodbye speech, the Fashion Police host thanked her co-workers while recalling the struggles and triumphs, both personally and professionally, that she has endured over the years.
During her last episode, Rancic, 40, looked back through clips of her best moments hosting on the red carpet and embarrassing bloopers. Giving her last speech, she said to her co-workers: "I love you guys. You have made work so much fun. You have made the past 14 years so much fun. We've been through so much together.
"As far as the viewers we've been through so much together, and you've helped me every step of the way. Through trying to have a baby – those struggles. Through getting frown lines; crows feet – you've seen me getting it all. And, of course, breast cancer. That's honestly been the biggest struggle I've ever had to deal with in my life. And it was all those messages from the viewers who would watch every night. I thank you all for that."
Even more touching was when Rancic's husband, Bill,, whom she met during an interview on E! News in 2006, emerged from behind the camera, telling his wife: "I love you," before they shared a warm hug. Bill, 44, also wrote a heartfelt letter to the presenter titled: "Giuliana: Why I'm So Proud."
In the piece, he said: "People don't give Giuliana enough credit, she's got a master's degree in journalism. She's brilliant and just gets it. When people come up to me and say, 'Tell your wife, 'Thank you.' I went in and got a mammogram because of her.' That's her legacy. That's why I'm the luckiest man in the world."
He later added: "She came to this country at a young age and could barely speak English. All the kids in her class laughed when she stood up at eight years old and said she wanted to be an award-winning anchor someday. No one is laughing now."
Funny memories from the "best moments" clip included Rancic trying to get actress Gwyneth Paltrow's attention on the red carpet by telling her: "Gwyneth, I always name you best dressed," and also proposing to George Clooney in 2003. Although the journalist will no longer front E! News, she will still host the network's Fashion Police series.