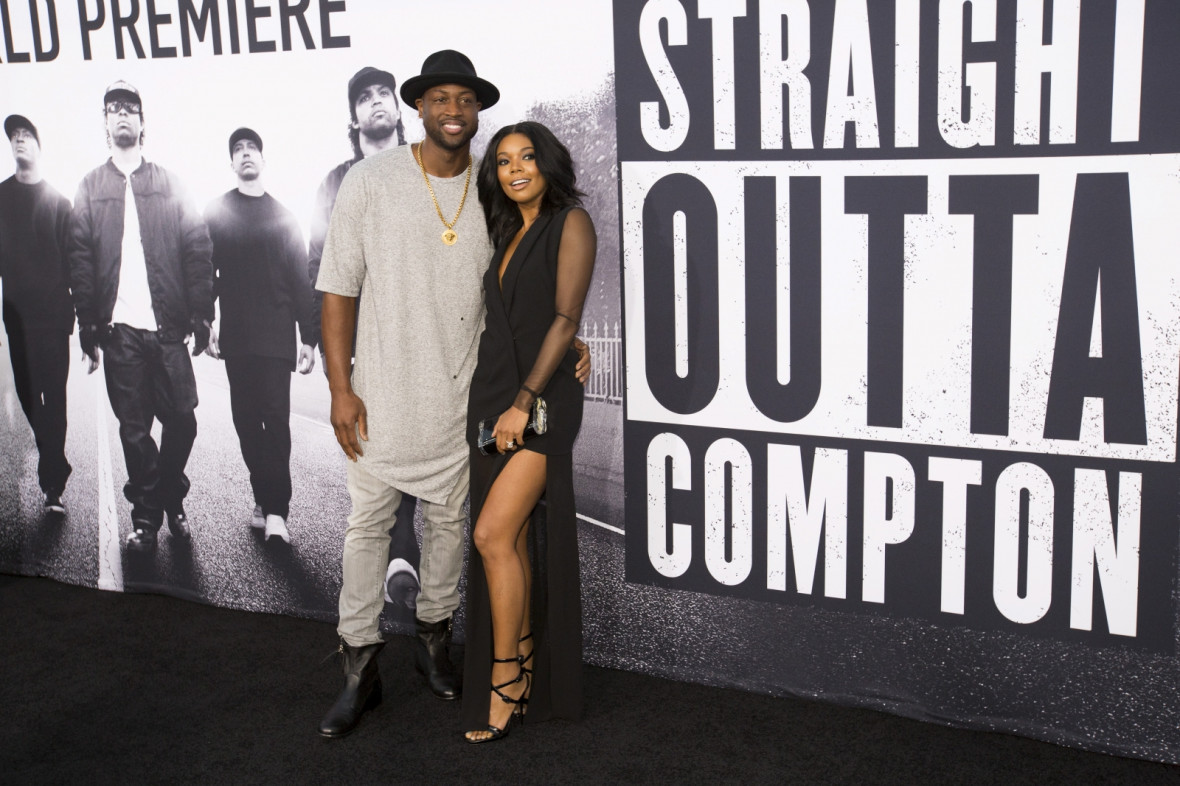 The world premiere of the NWA biopic Straight Outta Compton attracted a bevy of familiar faces last night (10 August). Actress Gabrielle Union was in attendance alongside the likes of Furious 7 actor Tyrese Gibson, rapper Snoop Dogg and the cast and crew of the movie.
Hosted at the Microsoft Theatre in Los Angeles, director F Gary Gray led the red carpet talent with executive producers and former NWA members Ice Cube and Dr Dre behind him. In a show of support, Cube, 46, posed for photos with his son O'Shea Jackson, who plays him in the feature length flick.
Dr Dre, who has released a brand new album inspired by the film, was joined on the red carpet by his wife, Nicole Young. Drawing plenty of attention was actress Union, 42, who looked chic in a floor-length sheer black gown with the top half styled into a blazer. The Being Mary Jane star was accompanied by her NBA player husband Dwyane Wade, who proudly took his own photos of the actress on his phone.
Hip hop icon Kendrick Lamar, who hails from Compton and features on Dre's new album, was in attendance, as was fellow rapper Snoop Dogg. Other stars spotted at the premiere included former One Direction star Zayn Malik, rappers Common and The Game, TV presenter Terrence J and Sideways actor Paul Giamatti, who also stars in the biopic.
Straight Outta Compton chronicles how NWA, which also consisted of MC Ren, DJ Yella and the late Eazy-E, rose from the streets of Compton to become one of the most influential rap acts in history. Although the controversies of the legendary collective have not been forgotten, Dre told The Hollywood Reporter that the group never intended to cause havoc. He said: "We were just trying to entertain our neighborhood, just us trying to be hood stars. It just became something that was much, much bigger than we ever thought, than I ever imagined."
The film is set to hit cinemas on 14 August in the US and 28 August in the UK with the likes of Corey Hawkins, Jason Mitchell, Neil Brown Jr. and Aldis Hodge leading the cast. Take a look at what other stars flocked to the world premiere...