Shares of GKN Plc, a global engineering group, rose 4.7 percent last week as Credit Suisse raised its rating to "Outperform" from "Neutral" and sets price target at 240 pence though during last month the group's shares underperformed the sector by shedding 9.9 percent, compared to 8.2 percent decline for the sector.
"Against this backdrop we upgrade our recommendation with concerns over the acquisition of Volvo Aero in our view discounted in the current price. There is no certainty that GKN will acquire Volvo Aero Engines but with MTU having now reportedly exited the bidding process (according to press reports) GKN is in pole position," said Credit Suisse in a note.
However, last month while the bid for the aircraft-engine unit of Sweden's Volvo was awaited from GKN, the broker Panmure Gordon recommended "Hold" rating and set price target at 205 pence.
"Despite some fundamental pessimism the stock is not a 'Sell'. Once visibility opens up for 2013E then we can see some valuation upside. In addition GKN offers high IRRs (internal rate of return) as calculated by our 'going private' model. Its case is worth re-visiting on weakness associated with Europe, or with a Volvo Aero deal," said the broker.
According to the group, GKN Driveline and GKN Powder Metallurgy will show further improvement though it is unlikely that the rate of market outperformance to be as high as in 2011. GKN Land Systems is expected to benefit from an on-going strength in European and North American agricultural equipment markets.
GKN Aerospace is expected to maintain its sales growth in 2012 as growth in civil aircraft production is anticipated due to an increased production by both Airbus and Boeing. However, this increase is expected to more than offset the reduction in US military aircraft demand.
"2011 was a year of good growth. GKN achieved a strong financial performance with all four divisions at or near record profits. Each division has leading technology and market positions and out-performed their respective markets, with a strong pipeline of new business. GKN Driveline and GKN Land Systems were further strengthened with the two highly complementary acquisitions of Getrag Driveline Products and Stromag. Looking forward, GKN expects 2012 to be another year of good progress for the group," said Chief Executive Nigel Stein while commenting on the growth.
For the full year ended December 31, 2011, group sales rose by 13 percent to £6112 million from £5429 million. The group reported 15 percent increase in profit before tax at £417 million with earnings per share up 9 percent to 22.6 pence per share.
"There may well continue to be quite different assumptions made about global light vehicle production in 2012 but sales growth in its automotive businesses exceeded that in global light vehicle production (3 percent) last year, which should continue to work in GKN's favour in 2012," commented Analyst Sandy Morris from Jefferies.
The automotive and aerospace parts manufacturer is scheduled to release its first quarter interim management statement on Wednesday.
Below is a summary of sector comparisons in terms of price earnings, earnings per share, dividend per share, dividend yields, return on equity and price-to-book ratio. The table explains how the company is performing against its peers/competitors in the sector. The table below represents top ten companies based on market capitalisation.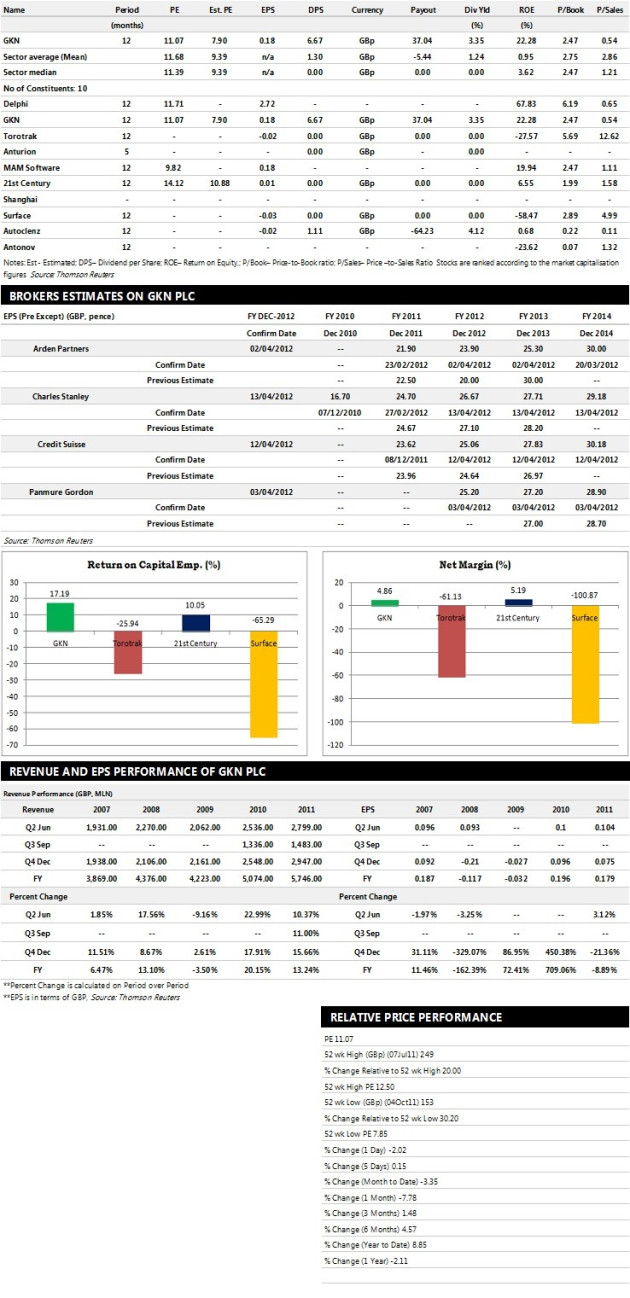 Brokers' Views:

- Jefferies & Co gives 'Buy' rating with a target price of 220 pence per share
- Charles Stanley recommends 'Underperform' rating on the stock
- Credit Suisse assigns 'Outperform' rating with a target price of 240 pence per share
- Panmure Gordon gives 'Hold' rating with a target price of 205 pence per share
- Arden Partners assigns 'Hold rating with a target price of 220 pence per share
Earnings Outlook:

- Charles Stanley estimates the company to report revenues of £6,149 million and £6,471 million for the FY 2012 and FY 2013 respectively with pre-tax profits (pre-except) of £507 million and £542 million. Earnings per share are projected at 26.67 pence for FY 2012 and 27.71 pence for FY 2013.
- Credit Suisse projects the company to record revenues of £6,919 million for the FY 2012 and £7,292 million for the FY 2013 with pre-tax profits (pre-except) of £496 million and £557 million respectively. Profit per share is estimated at 25.06 pence and 27.83 pence for the same periods.
- Panmure Gordon expects GKN to earn revenues of £6,907 million for the FY 2012 and £7,301 million for the FY 2013 with pre-tax profits of £498 million and £554 million respectively. EPS is projected at 25.20 pence for FY 2012 and 27.20 pence for FY 2013.