The great Glastonbury clean-up is well under way as the last of the festivalgoers trudge away from the muddy fields of Worthy Farm in Pilton. With backpacks stuffed full of clothes, raging hangovers and, in some cases, having to get their cars rescued from the mud by a tractor, many of those who have been dancing to the sound of Muse and Madness are making their way home – or at least, to the nearest shower.
From tents to beer bottles, condoms to cigarette ends, the amount of discarded items that are left at the festival grounds are well into their thousands.
It will take approximately two weeks for the 1,800 litter pickers to clean up Worthy Farm, with an estimated 500,000 bin bags of rubbish to be collected, along with 57 tonnes of reusable items and 1,022 tonnes of recycling.

The Glastonbury festival prides itself on being as eco and environmentally friendly as possible, and this has been evident in past years, despite the masses of items left behind. In 2014, more than half of all waste generated by the festival was recycled. This included 114 tonnes of composted organic waste, 23 tonnes of glass, 85 tonnes of cans and plastic bottles, 41 tonnes of cardboard and 0.264 tonnes of batteries.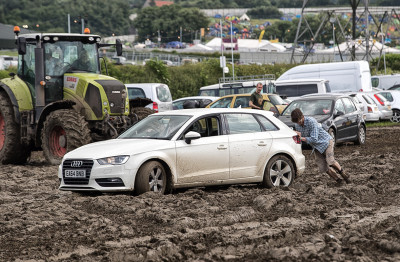 Michael Eavis, founder of the festival and owner of Worthy Farm, has been promoting the festival's campaign Love Worthy Farm... Leave No Trace, raising awareness of the environmental issues that help make the festival as green as possible. This includes encouraging people to take public transport when going to the festival, to new initiatives on recycling and more efficient ways of powering the festival activities.
Eavis founded Glastonbury festival in 1970, when several hundred people paid only £1 to enter. The festival now releases approximately 135,000 tickets each year.