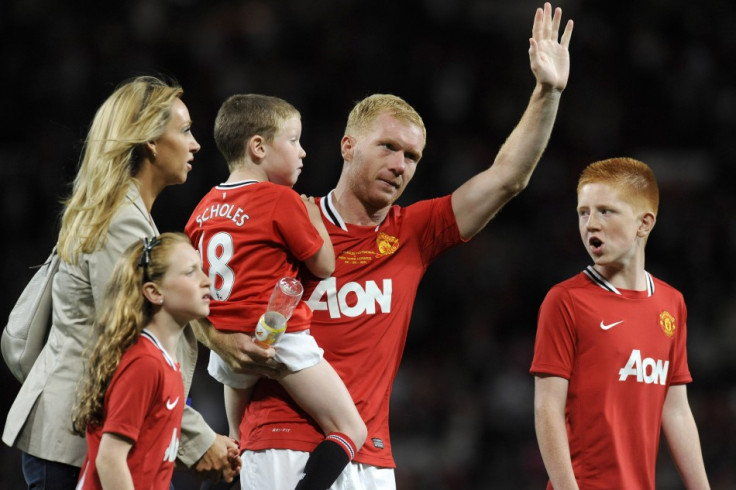 Manchester United legend Paul Scholes has been lauded as the finest player to have graced the Premier League by former England manager Glenn Hoddle.
Hoddle coached the pint-sized Manchester United playmaker during his England tenure between 1996 and 1999, and the 54-year-old admits he was the 'jewel' in his Three Lions crown.
Scholes called time on his illustrious Manchester United career last year and in doing so ended one of the finest careers in English football history. The midfielder won ten Premier League titles, three FA Cups and was part of two European Cup winning squads in 1999 and 2008, although he was suspended for the final in the former.
The Manchester United hero retired from international football in August 2004 having won 66 caps. Despite being instrumental in one of the most dominate club sides in recent years, the shy central midfielder was regularly played out-of-position in order to accommodate the likes of Steven Gerrard and Frank Lampard. A succession of England bosses tried to coax him out of retirement but one of Sir Alex Ferguson's greatest ever players declined the opportunity in order to remain in Manchester with his young family.
Manchester United's current malaise, with many citing their underwhelming midfielder as one their perceived major flaws, has merely heightened Scholes' worth to Sir Alex Ferguson and Hoddles intimates the reserved 37-year-old
"That's a tough one! I probably need two days to think about that... I'm going to go for the player I called the jewel in the crown of my England team, Paul Scholes." Hoddle said of the Manchester United hero.
"I think he got appreciation from the coaching staff and his team-mates.
"Nowadays football has become so glamorous, but on the football side of things Paul was a wonderful, versatile player and an ideal pro to work with."
Speaking about the notoriously quiet Manchester United hero, Hoddle said: "He was such an effective player. He loved playing football and got on with his job with total respect for those around him.
"He knew he was a good player but he didn't have to shout it from the hilltops."
In a game of lavish tributes and inflated egos, Hoddle suggests the Manchester United star was appreciated by those in the game, and perhaps even more so now that he has quit.
"People maybe get carried away with players in the limelight, but for me Paul got recognition from people within the game." Hoddle concluded.
Paul Scholes is now working as a coach at Manchester United alongside Warren Joyce with their reserves.
Glenn Hoddle was speaking to Yahoo!'s 'The Dugout' through its partnership with the League Managers Association.