Sharp declines in the prices of grains, oilseeds and dairy pulled down global food prices, which dropped to a six-month low in July 2014, the United Nation's food agency has said.
The Food and Agriculture Organisation's (FAO) food price index, which measures monthly price changes for a basket of cereals, oilseeds, dairy, meat and sugar, averaged 203.9 points in July, down 4.4 points or 2.1% from June 2014.
July's price index figure was 1.7% below July 2013, according to an FAO statement.
Commodity Indices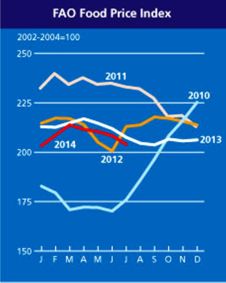 The FAO Cereal Price Index averaged 185.4 points in July, down 10.7 points or 5.5% from June and was down 36.9 points, or 16.6%, from a year ago.
The Vegetable Oil Price Index averaged 181.1 points in July, down 7.7 points or 4.1% from June. The decline continued to be primarily driven by falling soy and palm oil prices.
The Dairy Price Index averaged 226.1 points in July, down 10.3 points or 4.4% from June and was down 17.5 points, or 7.2%, from a year ago
The Sugar Price Index averaged 259.1 points in July, marginally up 1.1 points or 0.4% from June, and was up 20.2 points, or 8.4%, from a year ago.
However, continued strong demand for meat in Asia, particularly in China, supported the FAO Meat Price Index that averaged 204.8 points in July, 3.7 points or 1.8%, higher than its revised value in June. The index was 25.4 points, or 14.1%, higher from a year ago.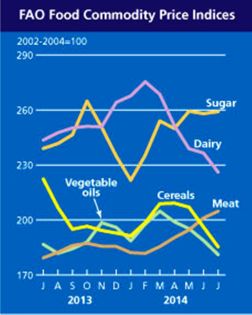 An import ban imposed by Russia to prevent countries, which have sanctioned Moscow over Ukraine, from selling food there for a year will probably have a limited impact on global food prices, senior FAO economist Abdolreza Abbassian told Reuters.
Senior FAO economist Concepcion Calpe said in the statement: "The lingering decline of food prices since March reflects much better expectations over supplies in the current and forthcoming seasons, especially for cereals and oils, a situation that is expected to facilitate rebuilding of world stocks.
"Livestock product markets have their own dynamics: in the case of meat, beef in particular, many exporting countries are in a herd rebuilding phase, which is limiting availability for exports and sustaining prices," Calpe said.
"As for dairy products, supplies available for trade appear to be abundant, which, along with a faltering import demand, has weighted on July's quotations," she added.